Babies R Us Canada: 25% Off Ingenuity inLighten Cradling Swing (Now $142 | Was $190)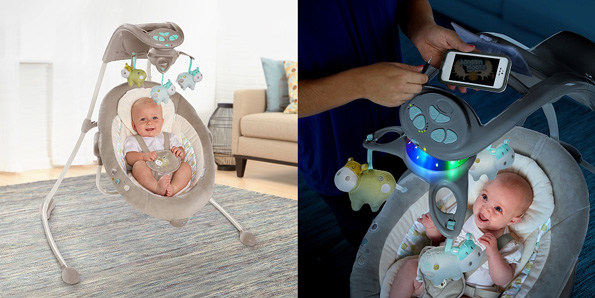 Baby won't let you put her/him down? Stick 'em in a swing! The Ingenuity inLighten cradling swing - Emerson 25% off at Toys R Us right now. Instead of its regular price of $189.99, you can get it for just $142.97. Of course, this would also be a great baby shower present or maybe even for all of you lucky ones who are pregnant right now! ;)
First, let me start by saying that I have this swing! I actually bought it last week before it went on sale. Now, imagine my surprise when I open this week's flyer, only to see "my" swing on sale for as much as 25% off! I wasn't sure if it would work, but I brought my receipt to the exchange department at Toys R Us and was actually refunded the difference between the price I paid and its current price back onto my credit card!
As for the swing itself, all you really need to know is that, yes, my baby loves it. Well perhaps love is too strong of a word right now, but she certainly doesn't cry when I put her in it. She stares at the rotating hippo in amazement and eventually drifts off to dreamland after about 20 minutes.
It can rock back and forth or side to side and features 6 speeds, 8 melodies and 3 nature sound. Plus, although I haven't tried it yet, it's also possible to plug a phone or mp3 player to play your own soundtrack as well (perhaps from a collection of nursery rhymes).
Assembly-wise, it's not too complicated and only requires one person. Do make sure to connect all the pieces correctly because once it clicks in, it's pretty hard to separate it (I say this from experience...)
Although shipping is usually free on orders over $25, it doesn't apply to this swing. However, you will instantly save $10 on shipping fees once you add it to your basket and will pay an estimated cost of only $20 instead of $30.