Adidas Canada: Infant Star Wars Stormtrooper Track Suit Was $60 | Now $38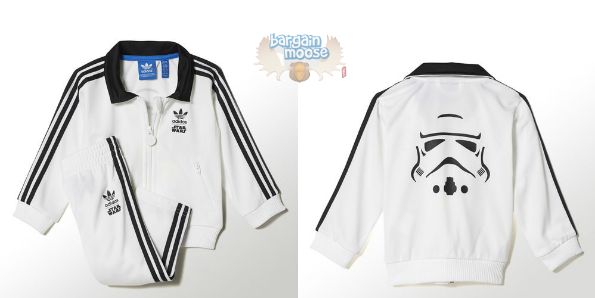 Adidas has a back to school sale going on (seems a little late?) with 30% off a number of items for men, women and kids. On top of this, I found a coupon code that gives you an extra 10% off your sale purchases. I see that Adidas has quite a bit of Star Wars themed clothing, which my family loves and one seriously cute item I found was this infant Star Wars stormtrooper track suit. Regularly it is $60, but on sale for $42. Once you add coupon code PAYPAL10 it reduces the price to $37.80.
Although Star Wars originally came out many, many years ago, it has an iconic status that has penetrated through generation after generation. Fathers who were kids when it came out have not instilled their love of Star Wars on to the kids.I bet there are even grandkids of the original Star Wars kids who love Star Wars. If you need a cute gift idea for someone about to have a baby and know the dad (or mom) is a Star Wars fan, this stormtrooper track suit is a great idea. Practical because it is comfortable and gives easy access for diaper changes, it is also cute with stormtrooper on the back. But, it also has that Adidas quality and style that the same parents who love Star Wars probably value as well.
There are four 5-star reviews on this item, including:
super cute for the little man in our life would recommend.
You can get this in 6m or 12m sizes. If you need something a different size, I noticed a few other items you could take a look at. With free shipping at $50, you might want to add another item anyway. Otherwise you are only paying a low $4.50 for delivery of your item.
I spoke about the Millenium Falcon cap in my post about where to get Star Wars gear  and at that time it was already on sale for $14, regularly $20, but once you add the coupon code, you'll get the additional 10% off, which brings this hat down to $12.60.
(Expiry: Unknown)