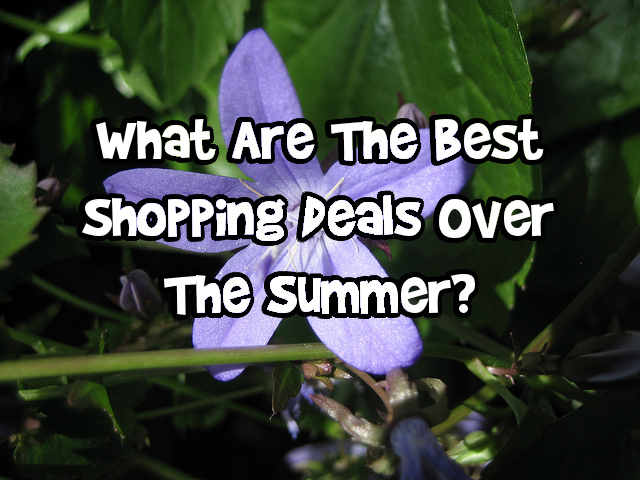 Being the frugal Bargainmooser that I am, I like to plan out my shopping expenditures throughout the course of the year.  To be honest, planning out my purchases is a fairly new concept for me, as I have never had the storage and organization  required to purchase things in advance. But this year is different, I have turned a new leaf, and I am now the queen of organization!  It's tough being married to a semi-hoarder, but I'm doing my best to clear things out of the house each season, and to add anything new we need when we purchase it on sale at the end of the season.  This year at the end of the winter we purchased various items in advance for next year, like winter snowsuits in a larger size for my girls, and hats and mitts for the entire family.  We managed to score these items at a price of nearly 70% less than what the original retail price would have been.  Score!  What should we purchase this summer in advance of next year, and what are some frugal items to purchase through the summer?
In-season produce
I absolutely love eating fruit and veg that are in season.  They taste so much fresher and more delicious than produce that has been delivered from other parts of the world.  Plus, I love that I am lessening my carbon footprint by buying local, fresh produce.  Here is a list of Ontario seasonal produce, which I find particularly helpful, as I can look at it month by month and plan some of the meals my family can enjoy.  Here in Ontario we are at the tail end of the strawberry season.  It seems like it doesn't last long, but when it does, it is outstanding.  One of the things I like to do with seasonal strawberries is to make Freezer Jam with it.  This year we picked our own berries at a price of $2.00 per pound, and we usually pick at least 10 pounds of berries.  With this I made jam, and from the 10 pounds of berries I made at least 40 jars of jam.  This will last me for nearly the entire year, with enough to gift to friends and family.  The pick your own experience is super fun for the entire family, and I like that I'm teaching my children about where their food comes from.  Towards the end of summer I always make a few peach pies and peach crumbles and freeze them for the winter, using the delicious local peaches.   A friend at work grows her own zucchini, and she always brings me in her produce.  Who can beat free?  Not this Bargainmooser.   With her luscious zukes I always make Crispy Baked Zucchini Fries, and I usually make some zucchini muffins or breads and put them in the deep freeze.
Go on a trip
The summer is absolutely the cheapest time to go to a warm destination, with the exception of Disney.  If you don't like crowds, whatever you do, don't go to Disney over the summer.   If I'm going on vacation to an all-inclusive resort I'm only going to do a 5 star resort, and there are tons of fantastic deals leaving from Toronto this month.  If I am ready to fly out of Toronto on July 11, I can get a deal at a 5 star resort in Punta Cana for only $400 plus tax. Our very own Krista White wrote about how to Get the Best Deals in July, and she mentioned going on a trip, along with some other awesome tips on what to buy in July.  I am seriously thinking about going on a last-minute trip with my hubby next summer, as typically the summer season is not busy at my work and I am always in need of some rest and rejuvenation by the summer time.
Camping gear, patio furniture and seasonal items
We are planning on putting in a pool next spring, so I will be starting to purchase pool toys, noodles and other necessities at the end of this summer season.  The prices are at least half of their cost at the beginning of the season.  We will also be planning on camping a few times next summer, so I will be waiting until the huge end of season sales this year to purchase a good quality tent and other camping necessities such as new sleeping bags for the family.  We will likely need new patio furniture next year, but given that I don't exactly know what our new backyard space will look like next summer, I really shouldn't make those purchases this year.  Jessica wrote an article a while ago about the summer sale cycles, and wrote about camping gear, be sure to check it out.
I do admit that it is tough to be conscientious enough to plan purchases months and years in advance, and I am certainly not an expert on it, but I do think it's best for your budget to know about sales cycles and plan in advance.  Here are articles from Figuring Money Out and Life Hacker about specifics to buy during the months of June, July and August.  For me, I will be purchasing pool supplies, barbeque accessories and summer clothing at the end of the summer season.
Bargainmoosers, do you purchase things seasonally?  What are your favourite summer-time purchases?