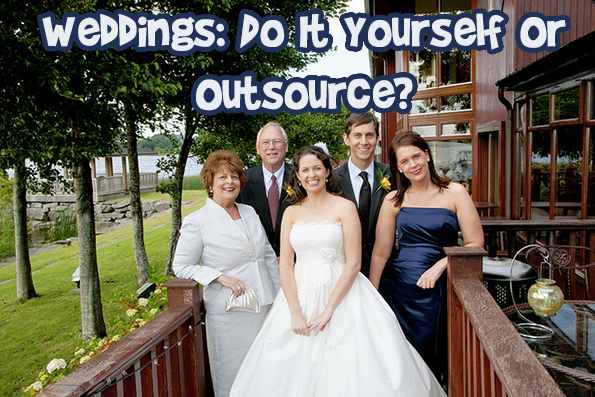 I have a friend at work who is getting married in a few weeks.  She is super excited about starting a new phase in her life, and she is ecstatic about getting married and possibly starting a family.  She has been living with her partner for a few years, and they have been together for a long time.  She is planning on having an intimate backyard celebration at her father's house. I was flabbergasted at the cost of her nuptials (read, the cost is very cheap!), and super impressed with how they are keeping their eye on the prize, that is, they are saving their money to buy their first home.  Weddings can be extremely expensive, and lots of people these days buck that trend by having a destination wedding, a backyard celebration or a small get-together at a restaurant. Which wedding particulars can you save on, and which things should you pay money for?
Food
Food preparation and food safety is one aspect of a wedding that I would not tackle myself.  I know that I would be extremely nervous about food safety and to ensure that none of my guests came down with food poisoning! Check out the principles of food safety from the Ministry of Health and Long Term Care for helpful tips on keeping food preparation safe. My friend was going to have a catered breakfast but decided it was too expensive and opted to have sandwiches catered for lunch. She and her family will make a number of side salads to go along with the sandwiches, which will save her a bundle of money. By choosing to have her wedding and reception during the mid-morning timeframe she will save a lot of cash, as she is not serving any alcohol, and she doesn't have to worry about serving a multi-course dinner.
Flowers
I think that making your own flower bouquets is a really easy way to save a lot of money on your wedding, but the only downfall is that you really need to prepare them the day of the wedding.  I know for myself, I was way too stressed out and busy the day of my wedding to be worried and preoccupied with putting together flower arrangements. But, I think it would be totally do-able if your ceremony was later in the day, or if you had a great friend/family member who was willing to help you out. Check out this article on how to Make your own bouquets from The Knot, and this video from Sassafras Flowers on how to assemble your own bouquets. They make it look so easy! When I got married I chose a small florist who was recommended by another bride I was friends with. Because she was an independent florist her prices were much less expensive than the larger florists I received quotes from. Also, I chose primarily in-season and local flowers to reduce the cost. Another option to reduce your flower cost is to use artificial flowers instead of real ones. I'm not a huge fan of fake flowers, but maybe I just have never found good-quality artificial flowers.
Cake
Would you ever make your own wedding cake?  Given that I'm not naturally gifted in the kitchen, I'd typically say no, but I found some amazingly easy do-it-yourself options that anyone can create.  You can save yourself a ton of money by making your own cake.  I was married 13 years ago, and even back then my cake cost around $350.  It was a simple, three tier cake which fed 100 people, so it wasn't as large or complex as many different options available, so I can't imagine the cost of those larger cakes. Check out this Pinterest page with lots of simple cake ideas.  I especially like this Donut cake idea- what could be simpler or more delicious? And how much fun is a donut cake that your guests can enjoy, it is so whimsical!
Venue
I love that my friend is having her wedding at her dad's house.  The cost for the venue is pretty cheap- it's free!  Her dad's house is beautiful and has a gorgeous backyard, and it's the perfect venue to accommodate her small number of wedding guests.  We went to another wedding a few years ago which was held at a city-run arboretum which was absolutely beautiful, required very little decoration, and was inexpensive.  In total their wedding cost under $5,000 which included the ceremony, appetizers and cocktails.  Think about city-run venues, neighbours and friends' houses, and restaurants as excellent options for a wedding venue.
Dress
Since my friend's wedding is pretty low-key and informal, her dress is following suit.  It is an off-the-rack dress which isn't actually a wedding dress. However, it is white, it's beautiful, and it is much less expensive than many of the dresses found in wedding gown specialty stores.  She is pairing her dress with flip-flops for her backyard wedding, and she will be very comfortable.
There are so many ways to lessen the cost of your wedding.  You can make your own flower bouquets, make some of your own food (or better yet have other people volunteer to make the food), and think outside of the box for different, less-expensive options for the various components of your wedding.  I was just looking at my wedding pictures today, and honestly, my best memories of my wedding were being surrounded by my friends and family celebrating the best day of my life.
Bargainmoosers, how did you save money on your wedding?
(banner image credit: TheDuffers)