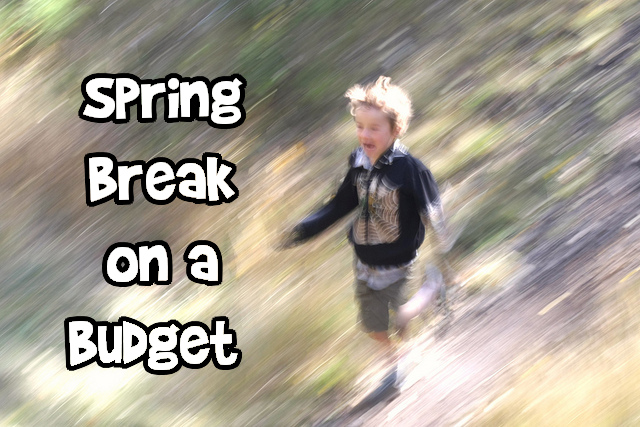 Spring Break.  It isn't simply a time where college students party hardy in Mexico at all-inclusive resorts.  Spring break is a time for families to get away or to spend time together at home.  It can also be an expensive time for families, understandably.  Parents have to take time off work to spend time with the children, or they have to arrange for alternate care or day camps for the children to attend.  Either way, even though it is a great break from school so that children can get back at the books refreshed, it can be an expensive week on the family budget.
Here are some ways in which you and your young family can do spring break on a budget this March.  Don't let this one week of the year break the bank.
Have a Staycation
Sometimes the hustle and bustle of work, school, prepping for lunches and dinners can feel like a never ending cycle of the daily grind.  Even with getaways it can take an insurmountable amount of energy to plan the getaway and the stress leading up to it can be too much to handle.  Having a staycation can be a great way to spend March Break.  Exploring your own city can be a great fun, adventurous, and economical way to spend March Break.  For example, heading to the local mountains, exploring the closest U.S. city on a day trip, or even heading to the local aquarium are all great ways to spend some of the days on March Break.  Canadian Family has some more staycation ideas that won't break the bank.  These include providing days in which your child can explore his or her passions (such as being a mad scientist or an artist) throughout the week, or even saying hello to your local heroes, visiting the fire department just by giving your local dispatch unit a call.  As you can see, staying around for March Break doesn't have to be something negative.  In fact, having your child gain insight into what they like to do and for their local heroes is a marvelous March break idea!
Subscribe to Travel Getaway Deal Sites
One of my favourite travel getaway deal sites is Travelzoo.  I recently signed up for a two night stay at a Vancouver Island resort for $85/night, 50% off what it would normally cost at that resort.  Most of the deals have good "window times" of use, and the fine print of when you can redeem the voucher is very clear.  I was able to book with no issues and it was a fun and frugal getaway.  Using Travelzoo Canada to plan your Spring Break getaway can make your March Break much more affordable if you plan ahead.  Of course, there are other sites such as looking for last minute deals on other travel websites too. Of course, Bargainmoose also has a great section for you to find travel deals as well!
Do What Other Parents Do
Yummy Mummy Club has some great input from moms all across Canada on great ideas for March Break that will not break the family budget.  One great idea is to go to the local dollar store and have your children pick three or four items that they can use during spring break to keep them occupied.
Switch it Up
Kate from Huffington Post Canada has a great suggestion on joining forces with other parents you know in the idea of switching up some days so that you can do activities for their children and your children one day, and they can take care of the activities for another day.  This will allow you to get the alone time you need to rest and rejuvenate or it will allow you to keep another vacation day at work from being used up.  Definitely a win-win situation.
If Cabin Fever is Getting to You...
Globe and Mail has nine March break getaway destinations for all shapes and sizes of budget for your family.  The prices are based on a family of four.  Although the prices listed are from 2012, they are helpful to give you ideas on what to do depending on if you live on the West Coast, Central Canada, or on the East Coast.
Bargainmoosers, what is your favourite way to spend your March Break on a Budget?
Photo credit: Jeremy Hiebert