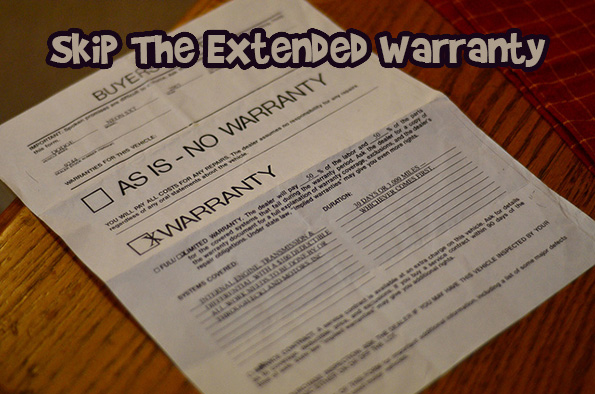 Recently, I bought a shiny new flat screen television for my mother at Best Buy (had to replace the old television as the screen was changing colours and it was over seven years old) and of course, as we were ringing in the transaction, the customer sales representative asked if we would like the extended warranty.
Although I knew that extended warranties are usually a money grab courtesy of the electronics company, I was still worried about "what if", since the salesperson made it sound like everyone really should purchase the extended warranty because it is such a good deal.
Extended warranties can add quite a bit of cost to your purchase. For example, for a three year extended warranty, it would cost an extra $99 on top of the purchase price.  This would mean that should anything happen to the television after the one year manufacturer warranty, Best Buy would technically cover the cost of any repairs needed if the television broke down after the first year and within the extended warranty time period.
Well, before you listen to the sales pitch of the over-eager possibly commission-hungry salesperson, consider the facts behind extended warranties. Well, are extended warranties a good idea?
Here are five reasons why you should skip the extended warranty and save your money.
1. Most of the money goes to profit
According to Gail Vaz Oxlaide, personal finance guru, about 80% to 88% of all money spent on extended warranties ends up as profit for the company. That means that less then 20% of all the money spent on extended warranties is actually spent on paying for claims for servicing or replacement of parts to the electronic product.  Basically, they are an easy money maker for the electronics company.  In addition, apparently Best Buy doesn't have a very good track record for their extended warranties and customer satisfaction.  Check out the consumer affairs complaint site on the extended warranties at Best Buy.
2. Repairs cost the same amount as the warranty
Consumer Reports states that usually repairs (especially for appliances) cost the same amount as the extended warranty.  Therefore, if you were thinking about claiming your repair, Consumer Reports recommends that you skip paying for the warranty and just pay for the repairs yourself.  Besides, you might forget that you bought a warranty, and incidentally end up paying for it twice.
3. You might forget that you have a warranty
Let's face it; you probably had good intentions when you bought that extended warranty.  However, now that your television is acting funny, you're not sure where you put the extended warranty and on top of that, you're not sure if you are covered.  Life happens.  We misplace documents, we forget whether we are covered or even worse, we are too lazy to follow up and to see if the damage is covered under warranty.
4. Electronics Deflation
Even though food, gasoline, and life continues to get expensive, one of the only things that doesn't continue to appreciate in value is electronics.  Typically, electronics depreciate in value.  The $1000 you spent on that 50" flat screen Sony television will probably cost a few hundred dollars less in a few years.  The cost of the warranty can be less than the cost of a replacement in certain cases.  Yahoo Finance gives an example of a Blu Ray Player.  They were expensive when they came out, but are relatively cheap now.  It would most likely be more cost effective to buy a new player rather than fix one (though of course worse off for the environment).
5. Credit Cards are your friend (in some cases)
Although credit cards are not so great most of the time, many credit cards offer extended warranty protection beyond the regular manufacturer's warranty.  Just check with your credit card provider to ensure that your credit card covers any extended warranty past the manufacturer's warranty.
As mentioned, it might not be a good idea to buy the extended warranty (especially if you want to save money).  If you do buy the extended warranty, make sure that it will cover the repairs and parts that you are interested in.  Read the fine print and don't just take the salesperson's word for it.  They are taught to pressure you to spend money, but take your time.
Bargainmoosers, have you bought an extended warranty that was worth it?
(banner image credit: trenttsd)