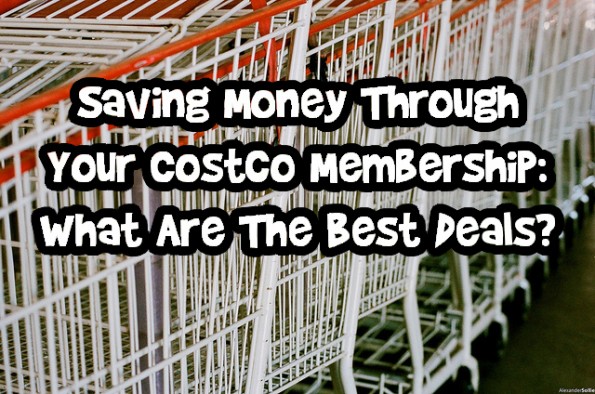 We have been Costco members on and off for the past 10 years or so.  The reason our relationship with Costco has been on and off as we have always been frustrated by the high amount we routinely spend there.  It's taken a few years and a lot of discipline to learn how to shop at Costco and ensure we are getting the best deals and spending the least amount of money possible.  One thing to note is that generally I can get better prices on most grocery items at a regular grocery store when I combine coupons, price matching and sales, but as our family life has gotten busier, and our lives have become more complex, I don't have as much patience or time to dedicate to looking for these deals.  What are my must-buys at Costco?
Contact lens solution
For those of us who have the misfortune of having poor eyesight, contact lenses are a necessary evil.  The contact lens solution that my optometrist recommended is Clear Care, and I find it cleans my lenses like no other solution.  It also seems to elongate the length I can wear my lenses.  On Amazon a 2 pack of the solution is over $20, and at Costco the 2 pack costs about $19, and the solution containers are larger than what I buy at Shoppers.
Monthly Savings:  $5
Greek Yogurt
I love the Kirkland brand of 0% greek yogurt, as it has nearly identical macronutrients to my other favourite Liberte.  When Liberte is not on sale, a 500g container costs around $5.  When is goes on sale and I have a coupon, I can get it for around $3.50 per container, but that magical combination does not happen very often.  I eat a 500g container of greek yogurt every 2 days or so.  The Coscto brand comes in a package of three 500g containers and costs about $8.50, which makes the per unit cost around $2.83.
Monthly Savings:  $8.68
Meat
Although we don't purchase a great variety of meat these days since we primarily eat poultry and fish, when we were eating red meat we always purchased it from Costco.  I don't enjoy eating steak unless it is top quality, as I like mine cooked rare.  A rare, cheap-quality steak is almost the worst thing you can eat!  It's difficult to compare prices on meat, since they fluctuate so widely.  For me, since we don't eat red meat all that often, purchasing the great quality meat at Costco is worth it.  According to Consumer Reports,  Kirkland Signature Regular Sliced Bacon scored top marks in terms of quality and price.  Our family eats about a package of bacon per week, and regular bacon (without a sale) is now around $5 per 500g package.  The price for the Costco bacon is around $3.80 per 500g.
Monthly Savings: $5.00
Nut butter
I eat a ton of nut butter.  I don't like avocado, so nuts and nut butter are my primary source of healthy fats.  My family (mostly me) eats nearly an entire jar of Kraft natural peanut butter per week (I know, it's a lot!).  I eat it every day.  I have said it before, if you don't shop sales or Price Match, Costco is a great place to get good prices on items like nut butter.  Marantha almond butter comes in a large jar which costs around $8, while the same brand of almond butter at the grocery store costs about $6 for a jar which is half the size.  If I ate almond butter I know I'd realize huge savings each month through purchasing it at Costco.
Monthly Savings: $8
Flowers
The price for flowers at Costco really can't be beat.  Last weekend I purchased two gorgeous, large bouquets of flowers at Costco for both my mother and my mother-in-law for $18 per bouquet.  A similar-sized bouquet at the grocery store costs at least $25, and even more through a florist.  The only downside to getting flowers at Costco is that they don't wrap them for you.  Personally, I don't care what the wrapping is like; I would rather save the money.  Additionally, I purchase about a bouquet of flowers per month for my house.   Through buying them at Costco, I'm saving a bundle!
Monthly Savings: $7
Free Shipping
If you are an online shopper, Costco always offers free shipping on everything, which can save you quite a bit of money over the competitors, especially on large items.
Remember that the best way to save money at any store is to make a list and stick with it.  Last weekend, as an example, was the first nice weekend of the spring and I went bananas buying summer clothing for both my girls.  Instead of spending the $200 I had budgeted for my trip, I ended up spending nearly $400.  Yikes!  Make a list and stick to it, but leave some flexibility in your budget for those items that are must-have great deals that you see while you are there (like the super-cute Puma tennis dresses I bought for my girls, that were only $12.99 each). Also keep in mind that Costco has an extremely reasonable return policy- if you aren't satisfied with your purchase they will refund your purchase, with no questions asked.  Given that an annual membership to Costco is $55, for me, I save almost $30 each month through shopping at Costco.  The annual membership is definitely worth it for me, as long as I can control my spending while I'm there.
Bargainmoosers, what are the best deals you regularly purchase at Costco?
Photo credit: Alexander Sollie