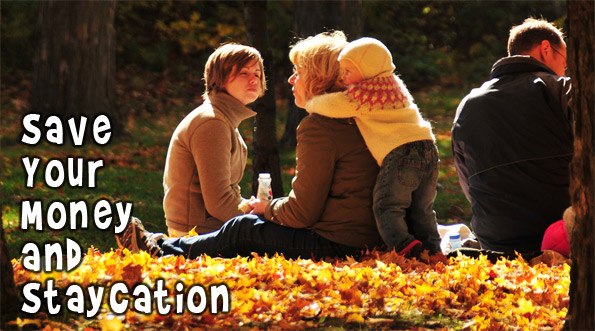 You may be tempted to book off all of your vacation days and catch the next flight to Cancun right about now, but have you ever considered staycationing instead?  Let's remember that the point of a vacation is to relax, regroup, and forget about work for a few days. But when you're paying top dollar to go to an all-inclusive paradise for 5 nights, you might find that getting your money's worth at the buffet, bar, and heated pool ranks significantly higher than reading a book all day or taking an afternoon nap. You may also feel pressured to go on a few excursions while you're there, costing you even more money for a four-hour bus ride, a nasty sunburn, and a few snapshots of some ruins you'll forget the name of on the flight back home.
If this doesn't convince you to save your money and stay home, why not consider the weather during the rest of the year. The summer months in Canada are like a double rainbow, beautiful but rare. This is the best time to stay local and play tourist in your own city, so it might be a good idea to hold off skipping town until you hear the words cold front and icy mix coming out of your weatherman's mouth.
To avoid having your staycation turn into a week of doing chores and watching re-runs of Ellen, you need to make a plan and set some boundaries. You may be staying at home but this is still a holiday and should be treated as such. First off, do all of your chores the night before your vacation officially kicks off, and then don't touch that burgeoning basket of laundry or Sweeper-Vac until it's over. Secondly, make a budget. It doesn't have to be much, but set aside some fun money to play with. Last but not least, outline a plan on how you wish to use your days off. If all you want to do is put your feet up, drink some homemade summer cocktails, and re-watch every season of Gilmore Girls, you go girl! If you want to finally check out all of those cool pubs your friends keep talking about, start marking down places on a map and check them off once you've visited them. If you have no idea what to do with all of your free time, perhaps some of these staycation ideas might help you decide what to do:
For the foodies – How many times have you walked by that line-up of food carts downtown only to say to yourself you'll try them out some other time? Well that time is now! If you are a true food lover, why not spend your holiday doing a food crawl. Each day could be a different part of the world, and to indulge that sommelier inside you, pair each meal with a different type of wine.
For the recovering shopaholics – To all of you who are still paying down your credit cards from a shopping spree a few years ago, just because your shopaholic days are over doesn't mean you can't do a bit of shopping at the local boutiques. Just make sure to set a strict budget and make a list of what you'll allow yourself to buy, such as one pair sandals or one new dress shirt. Better yet, why not simply enjoy a nice afternoon window-shopping; it won't cost you a dime and it's guilt-free too.
For the bookworms – Grab your blanket, an ice capp, and head on down to your local park for a relaxing day of reading a good book. If you don't want to spend your entire vacation under the sun's rays, why not get lost in your local library or dare I say it, attempt to write something yourself.
For the cinephiles – Although I do think summer should be spent largely outside, when it gets dark there's no better way to enjoy an evening than to watch a film. Whether you're having a movie marathon at your house, catching a foreign flick at the cinemateque, or going to see one of the free outdoor screenings in your area, don't forget to bring your own snacks!
For the outdoorsy-types – If you love the outdoors, then it's probably a good thing you live in Canada. You can do almost all outdoor activities for next to nothing, not to mention getting your summer body back at the same time.
What do you do when you staycation?
(Image credits: Rishi Menon)