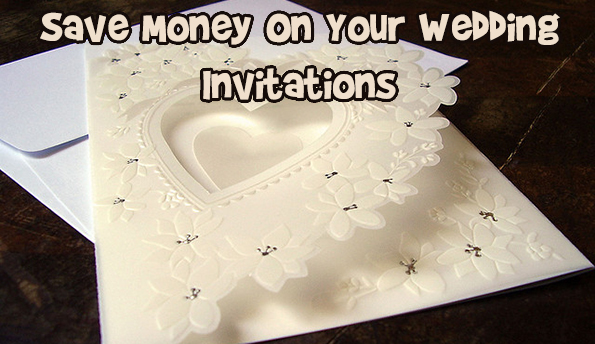 Considering that the average cost of weddings in Canada is now up to $23,300 (source: Globe and Mail), it makes sense to try and cut down on the wedding expenses in areas where people won't notice that you are trimming back.  One of these areas where I do not think it is essential to spend a lot of money on is wedding invitations.  While they are a memento and something you will cherish for a long time, most people that you invite will likely recycle the invitations or at least put them somewhere where they won't be looking at them on a daily basis.
According to the Bridal Association of America, the average cost of wedding invitations amounts to $659.  This amount refers to invitations that involve wedding invitations, replies, and envelopes for both of these.  Most couples nowadays do not include reply RSVP cards and envelopes.  However, even if you factor in the omission of the reply cards and reply envelopes, the price of wedding invitations can still cost around $2 to $5 per invitation.
Here are a few tips on how you can save money on your wedding invitations, allowing you to save more money towards more important things, like your honeymoon, or your new life together, for example.
Make Your Own
You can design your own wedding invitations, or buy a template from Etsy or through a big craft store, like Michael's.  This will save money on design costs.  MSN Money recommends using design software to create your wedding invitations.
Instead of having the envelopes printed with your address and the addresses of those that are invited, use a mass printing machine with stick-on labels instead.  People (like me) throw out the invitation envelope immediately anyway (I don't like clutter that much and I like to recycle) so it doesn't matter what your envelope looks like.
Also, you could use websites like Vistaprint to make your own invitations.  Or you could even use Shutterfly or Picaboo to send an invite out that consists of a picture of the two of you instead of a formal print out on card stock.
Opt Out on Big Envelopes
Obviously, having to use big envelopes or big square invitations will cost you extra in postage.  Considering that Canada Post is planning to increase their Canadian postage stamps from $0.61 (or however much it is now) to a whopping one dollar soon, any additional costs, for example, a larger envelope, will really add up, unfortunately.
Keep it Simple
The more elaborate you make your wedding invitations, the more expensive they will be.  The Knot (known as the wedding guru website for all) suggests using a single panel invitation instead of a folded invitation.  A simple, single panel invitation will be much more economical than a typical wedding invitation that folds like a card, and has tissue paper inside it.  People rarely remember the design or style of your wedding invitation and if that can save you a few hundred dollars, then go for it.
Email Out Your Save the Date's and Get RSVP's Emailed
Instead of including the RSVP card which adds to printing costs, envelope costs, and mailing costs, ask people to RSVP via email instead.  Not only will you be saving money on RSVPs, you will also be saving the environment.  If possible, Yahoo recommends that you could even email out your invitations instead of sending them by mail too.  This will be 1/10 of the cost of mailing out paper invitations.  However, not everyone is a fan of this, as some people do not have email and still prefer to receive invitations by snail mail.
However you plan to save money on wedding invitations, the point is that you can save money on wedding invitations.  Instead, you can focus on more important things like photography, food, and other things that people will more likely remember and take pictures of.  Let's face it, $23,300 is a lot of money, and if there's any way you could save some of that towards more important things, like not going into debt for your wedding, or a down payment for a new home together, then you should.
Bargainmoosers, how much did you spend on your wedding invitations?
(banner image credit: tamburix)