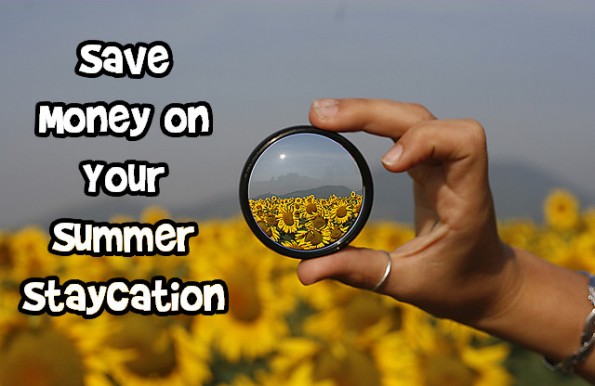 Summer holidays are halfway over now that we are in August, but that does not mean that you should start panicking about your lack of vacation plans.  If you have some time off in the summer but aren't planning to use your passport for your summer vacation because of our slow economy, or the expensive US dollar currency or the expensive fuel surcharges on international flights, you still have some time to make your staycation a memorable and great vacation.  Here are some ways to save money on your summer vacation through doing a staycation.
What Makes a Staycation Great?
According to Moneysense, what makes a staycation great (and feeling like you just had a vacation) is being able to switch off from the typical grind or day-to-day routines.  So, if you are planning to stay at home and relax, make sure you turn off your work cell phone and completely unplug otherwise, it will NOT feel like staycation or vacation, I guarantee you.  The key is to do something different than you would usually do on your weekends.  They suggest that if this means not doing your routine household chores, then don't do them.  So instead of having to cook and clean up after the cooking all the time, order some meals in, or go out for meals.  Although this may seem extravagant (eating out or ordering take-out), it is still less costly than going on a vacation that involves flight and accommodation.
Here are some ways to save money on your summer staycation and have a fun time while you are at it too!
Go to Your Local Park or Pool
The other day I went with a friend to an aqua fit class (I'm not a very strong swimmer, so this was as good as it gets to me being in the water) at an outdoor pool.  It was a great experience and I was exhausted afterwards (couldn't keep up with the 60 to 70 year olds in that class).  The class and extra swim time, sauna time, and hot tub time was only $6, as part of the local parks board fees.
Earlier this summer I had a picnic at the local park and got a chance to completely de-stress by reading, enjoy the sun, and taking a small nap - all for free, all you need is food and a picnic blanket.
Go Hiking
We are fortunate enough to live in Canada, so there is hiking everywhere (well maybe not so much in the prairies, but there are nice walks!).  The other day, I went on an 8 hour day hike for 18 kilometres.  It was a long day and it took about 45 minutes to get there, but I felt completely unplugged and it was a great way to spend the long weekend even though I didn't go anywhere.
Go Camping
Camping is a great way to de-stress and unplug from the outside world because you are forced to unplug (cellular phone reception is usually not so great in the great outdoors, understandably).  Canadian parks are notorious for being difficult to book, but if you are lucky enough to make a reservation, the costs are usually $35 a night including reservation, which isn't so bad.  If you're interested in camping for free or for a smaller fee, check out Free Campsites where you can find cheap or free campsites in Canada and the United States.  For more ways to save money while going camping, check out this great Bargainmoose post on 4 Ways and 3 Ways to save money on your next camping trip!  In total 7 ways to save, how great is that?  Also, be sure to check out the Bargainmoose page on camping for great camping gear sales.
Be a Tourist In your Own City
Finally, how many people have not explored their city?  Check out your local Entertainment book (if Entertainment books are $6 you have no excuse but to buy one!) or take advantage of the daily deal offers for things to do in your area that you would normally do if you were exploring you own city but not living in it!  For example, kayaking, or shows, or museums, and musicals!
Hope these tips helped you take advantage of what is left of summer!  For more ideas for your staycation, be sure to check out this Forbes list on 16 Things to Do on a "Staycation".
Bargainmoosers, what is your favourite thing to do during a staycation?
Photo credit: Marco Mangrini