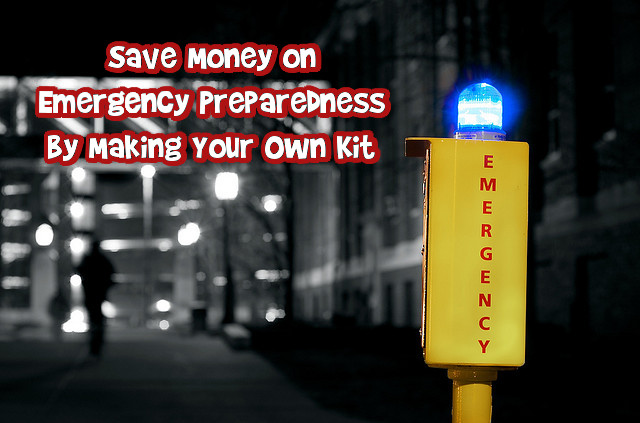 Preparing for emergencies is not something that most people do, but is something that definitely should be done.  With the exception of a emergency preparedness kit in my car (that was already pre-packaged), I, like most people, am guilty of not preparing myself if an emergency were to ever happen.  According to a survey done by American Family Safety (unfortunately with American data, but I expect that this data can be extrapolated to us Canadians) over 80% of Americans would be worried about their family members in the event of an emergency, but only 13% of Americans surveyed have an emergency preparedness kit of some sort with essential supplies.  Here are some ways to save money on an emergency preparedness kit.
Pre-made Emergency Preparedness Kits
Of course you can save the time and hassle of preparing your own emergency preparedness kit by simply purchasing a pre-made one.
The Canadian Red Cross has a lovely emergency preparedness kit that is very well stocked in a red backpack.  It however costs $59.95, which is pretty reasonable considering it includes a backpack and a first aid kit, not including shipping.  It provides enough supplies for the first 72 hours of an emergency for you and your family.  Unfortunately it doesn't include all the food that would be necessary.
In addition, Costco.ca has an emergency preparedness kit suitable for four people for just under $150 a kit and it includes shipping and handling.  The cool thing about this one from Costco is that it has a colouring book and crayons for your kids to keep them busy.  The other great thing about this is that the food and water rations have a 5 year shelf life (which means less work for you to upkeep the kit).
If you don't have $59 or $150 to spare for something that you will use "in case" (well, better never used, I suppose), here is what you can do to make your own emergency preparedness kit.
What You Need to Make your Own Emergency Preparedness Kit to Save Money
Get Prepared (a Canadian government website) has a great checklist that you can use to check off the items needed in your 72 hour Emergency Kit.  The main things that you need are water (at least 2 litres per person per day in your family), food (non-perishable such as canned foods, energy bars, or dried fruit and nuts), and a flashlight (ideally one that does not require a battery to operate or one with batteries), a can opener, a battery powered wind-up radio, a first aid kit, and an warm lightweight blanket (the ones that reflect light to keep you warm e.g., mylar or emergency foil).
For the food and water portion of your DIY emergency kit for four people, it is important to remember to replace these annually.
20L Gallon container $9.50  (Canadian Red Cross)
Canned meat (Spam or Corned Beef may be a good option here) for those who eat meat ($10 worth)
Dried nuts or trail mix in a sealed bag ($10 for a bag)
Granola bars (something with protein, Clif bars may be a good option $12 for 12 bars)
Canned pasta or soups ($10)
4 thermal blankets ($1.80 each from Canadian Red Cross)
8- 12 hour hand warmers ($1-2 each)
Flashlight with batteries (can be bought at your local dollar store)
Can opener (at your local dollar store)
First Aid Kit (main things to include are gauze, normal saline, alcohol wipes, tweezers, band-aids, gloves, antiseptic towlettes, and a sling bandage/ compression bandage)
4 dust masks (can be found at your local hardware store)
Garbage bags, Ziplock bags
Waterproof matches, emergency whistles, nylon rope can be found at your local camping store
Hand sanitizer (local dollar store)
Rain ponchos (your local dollar store may have some)
Hand crank radio- this is the most expensive item ($40), check out the Canadian Red Cross for some of these
Personal hygiene items (like sanitary pads)
These are just some of things that you might want to have in your own 72 hour emergency preparedness kit.
The above DIY kit will cost you about $100, but you can just omit things that you don't need, like for example, a dust mask or hand warmers, or rain ponchos.
Not Only Do you Need a Kit, You also Need a Plan
Emergency contact numbers, a plan of where to meet and how is also important to discuss with your family.  The kit should also have a photocopy of your family's important documents  and some cash in small denominations.
Bargainmoosers, do you have an emergency preparedness kit?  Did you buy it or DIY?
Photo credit: Matthew Rogers