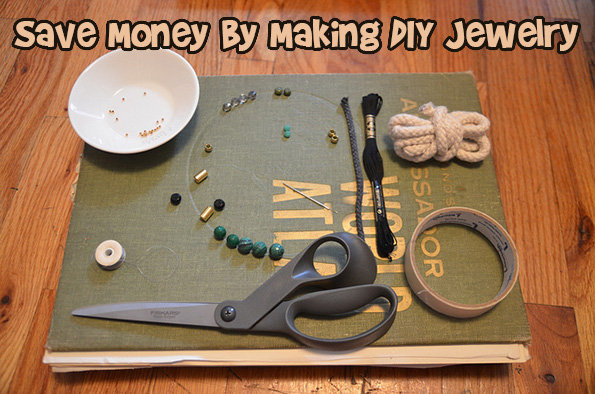 Most of us like shiny things, especially shiny things that we can wear as earrings, necklaces, and bracelets. With the hipster trend coming back and unique pieces of jewelry being on the forefront of style, this gives us an opportunity to wear cool pieces of jewelry without spending an arm and a leg on them. Who needs Tiffany & Company and their ubiquitous jewelry designs? Ever since my friend made me earrings for special occasions (like my birthday or for a Christmas present), I've been hooked on the idea of Do It Yourself jewelry.  The earrings that she makes for me are so beautiful and so unique.  Truly a gift from the heart.  Even better is that it is made at a fraction of the cost.
What better way to show your individual style by making your own jewelry and having it be a great conversation starter because, hey, you made it!
To start off with making Do It Yourself Jewelry, you'll need a few tools that are inexpensive to purchase, and can be re-used over and over as you continue to make more jewelry:
Wires
Earring hooks (can obtain at Michael's)
Jewelry pliers and cutters
studs
Beads or other types of jewelry
Here are a few ideas to get you started on saving money on making DIY yourself jewelry.  Once you get started with making your own jewelry and you see how easy it is, I doubt you'll be buying jewelry again!
From Delightfully DIY, you can check out the full tutorial on how to make these beautiful earrings below. She comes up with these really cute chandelier earrings that are a knock off of the expensive (think $300+ expensive) Anthropologie brand.  All you need here are some beads, gold wire, and earring hooks.
From Buzzfeed (of all places), why not upcycle stuff that you're planning to throw away (like old membership and credit cards, for example) and make them into stylish jewelry?  I just love this design and I think it's gorgeous.  All you need is to systematically cut up your membership card (for example, they used a CAA membership card), paint the edges with gold trim, string them alongside beautiful turquoise beads, tie a knot and you're good to go!  Instant chic style, and amazingly easy to make.
From henryhappened.com, this would make a great gift because you can make an earring, bracelet, and necklace set out of it.  It's quick and easy to make.  All you need are a gold chain, gold hex nuts, E-6000 glue (great glue for jewelry making and crafts), gold jump rings, lobster clasps, and jewelry pliers. Of course, the gold chain doesn't have to be made out of real gold, because that would defeat the purpose of DIY jewelry costing less than store bought jewelry.  It looks super classy and elegant, and yet are made out of hex nuts, something you would find at the local hardware store.
Finally, makingitlovely.com has a great tutorial on how to make a statement necklace. This necklace is absolutely gorgeous and would likely cost anywhere from $50 to $75+ anywhere else (I would speculate even $150+).  It would make a great gift as well for your bold and beautiful friends who love to wear jewelry.  She details the tools that you will need in order to start to make this piece of jewelry: jewelry finding, jade coloured beads, fishing wire, wire cutters, and jewelry pliers.  All of these items can be purchased at the local Michaels store.
There you have it, four easy to make Do It Yourself Jewelry ideas to keep you looking good and to keep you crafty!  The bracelet, statement necklace, do it yourself jewelry set, and beautiful chandelier earrings are great way to gift your closest friends and family.  Also, it stimulates your creative side, and is a great way to evaluate your priorities and see people just like a stranger would.
Readers, do you have a great piece of DIY jewelry that you found really easy to make and was /a great conversation starter?
(banner credit: Stacie Stacie Stacie)