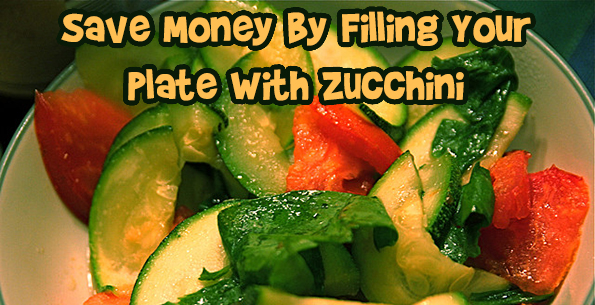 It is zucchini season in Ontario and I am loving the super cheap and plentiful zucchini that is currently available. At one grocery store this week zucchini is on for $0.79 per pound, which is a super steal.  Last summer I had a good friend who had a green thumb, and she gave me pounds and pounds of zucchini from her garden, and that's when I discovered the pure awesomeness of zucchini.  I used it last summer in a few dishes but really didn't experiment very much.  This year, I'm eating even healthier than last year, and I can't wait to include zucchini in the vast majority of my meals.  Zucchini is a great vegetable to hide in food to get your kids (or spouse) to eat more veggies.  There are lots of ways to include zucchini in your everyday eating, and by doing so you can lower your grocery bill by filling up on the good stuff.  Zucchini is incredibly versatile, and can be used in main dishes, side dishes and desserts. The sky is the limit!
Zucchini basics
According to LiveStrong, zucchini is low in calories and high in water, and has a moderate amount of vitamins and minerals within it.  It also has a moderate amount of fibre and protein in it, and has a low amount of carbohydrates, which makes it an ideal food for anyone who is living a low carb lifestyle, such as Atkins, or for someone who doesn't eat grains or refined carbs such as the Paleo Diet.  It is a perfect base for many, many meals and side dishes.
Storing it for future use
A fantastic way to store zucchini for consumption during the winter is by freezing it.  According to Thekitchn, if you blanche the zucchini then freeze it, the zucchini will be in excellent shape for use in a future meal.  How about Preserving the zucchini for future use?  Zucchini pickles sound so delicious, and zucchini relish would taste so great on grilled hot dogs.  Honestly, I don't spend a ton of time in the kitchen, so you won't see me canning anything, ever, but I would totally blanche and freeze it for future uses.
Savoury dishes
Probably my favourite use for the popular zucchini is to put them into savoury dishes.  I love experimenting with using it as a neutral base and adding in other flavours on top of it.  One of my favourite ways to dress it as a simple lunch idea is to shred a whole zucchini, place about a tablespoon of pesto in it, microwave for three minutes, and top with leftover chicken and goat cheese.  My entire lunch costs less than $1.00, and it tastes incredibly delicious.  An added bonus: the entire lunch takes about five minutes to prepare!  Another savoury idea is to make Zucchini fritters, which taste incredible with a side of dilled sour cream.  My second favourite way to eat zucchini is Zucchini Fries, which gives me the sensation of eating fries, but in reality, I'm eating super healthy vegetables, especially if I dip them in tomato sauce.  I served these last weekend to my 82 and 83 year old grandparents, and they found them incredibly fun and delicious.
Main dishes
The Veggie Spiralizer has become increasingly popular over the past few months.  Although I haven't shelled out the money to purchase one, my friends who have are incredibly happy with them, and use them to spiralize veggies like zucchinis to make homemade, low-carb noodles.  What a fantastic, cost-effective noodle alternative.  I usually eat Miracle Noodles for my healthier alternative to pasta, so I'm excited about this veggie-based option.  One of the few dishes I can actually make without screwing it up is zucchini boats.  They are so easy to make and are so delicious- even my kids eat them!  How about trying some Zucchini tacos?  The combination of roasted zucchini and corn relish sounds super yummy to me!  Although I like to have a good amount of protein with every meal, we do like to have a meatless meal every so often, and this would totally foot the bill.
Desserts
I think that putting zucchini in dessert is probably the most typical way that people will use their zucchini.  I have made a lot of recipes from Chocolate Covered Katie including these zucchini brownies.  I'm not sure what Chocolate Covered Katie does to perfect her recipes, but they really do turn out every time.  Her recipes are all healthier than conventional recipes which I appreciate as well.  I'm not a big sweets fan, but when I do eat a sugary dessert, Zucchini Bread is one of my favourites.  I absolutely love it, and it is so easy to make.  If you have never made a zucchini or banana bread you should really give it a try - they are fun to make and very difficult to mess up. Throw in a few chocolate chips and you have a perfect dessert.
In case you can't tell, I really love zucchini.  I also love to eat, and I really appreciate that I can eat pounds and pounds of zucchini and it won't affect my waistline.  If only chocolate were like that!  I'm really hoping that I have a few friends who are successful gardeners and will offer me some free zucchini this year.
Bargainmoosers, do you eat zucchini?  What are your favourite ways to eat it?
(banner image credit: Steven Depolo)