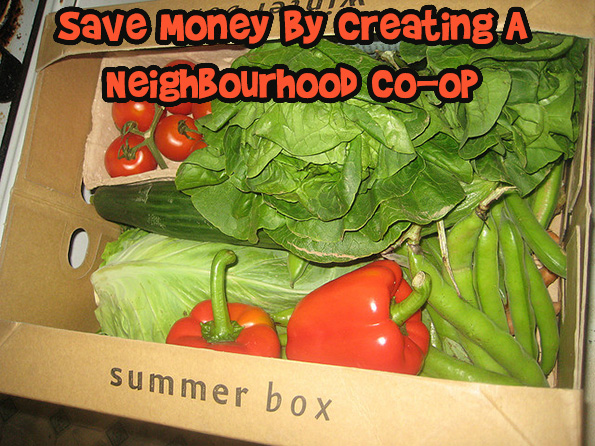 Owning a home is expensive.  It doesn't stop at paying for the mortgage.  Things like having to pay for equipment from the Home Depot or Rona can really put a dent in your budget. By sharing these big expenses with neighbours, it can lessen the cost of stocking your garage or garden, and help you get to know your neighbours better.
Gardening Equipment, Household Equipment, and Ladders...
As a new homeowner, there were many expenses for outdoor house-type things that I didn't really want to spend money on.  Namely such things like a lawnmower, a ladder, power tools, and a power washer.  Our neighbours, who have been living in their homes for longer than us, also didn't have a lawnmower.
Getting to know your neighbours brings you many more benefits than just having someone keep an eye on your home for any suspicious activity.  When we moved in, I made cookies for our immediate neighbours.  It doesn't hurt that they have cute children who were very receptive to cookies!
Over the past year and a half, we got to know them better and borrowed various things from each other.  It has really helped because equipment like ladders and power washers don't come cheap.
For example, a ladder is usually $150+ upwards, power washers (depending on the quality) can be even more than that.  On a tight homeowner budget, sometimes this is not very feasible, especially when you only use it once a year to clean the gutters.  When you can share the burden of owning this equipment, it reduces clutter and gives you more space.  Three houses don't need three ladders, especially when the ladder is sitting underneath the deck most of the time.
This neighbourhood co-op idea doesn't have to be limited to the confines of your neighbourhood block.  For example, in Vancouver, they created a Vancouver Tool Library.  It is a cooperative tool lending library in Vancouver and they have tools for home maintenance, gardening, bicycle repair.  You can even buy tools or just pay a small fee to borrow them.  A brilliant idea, in my opinion.  It is good for the environment, good for the community, and good for your wallet.
Think you might be interested in starting one up in your community?
The Mother Earth website has a great article on how to create your own tool sharing program.  When you pool your resources with your neighbours, this allows for more tools for everyone to use.  A win-win situation.
Other Co-Op Ideas
There are many other different co-op ideas.  Helping each other meet their common needs can really strengthen the community and help develop your relationships with your neighbours.  Howcast has a neat video on other co-op ideas.
For example, some other co-op ideas include a dinner co-op (though this is probably a better idea once you really get to know your neighbours because it would likely involve regular communication on a weekly or even monthly basis).  A dinner co-op involves preparing meals in sufficient quantities to share with your neighbours. This would be a great way to build community and also relieve you of the cooking duties once in a while.
Another more common idea is the idea of a produce or garden co-op.  Most people have at least small herb gardens or other gardens in their home.  When you have enough produce (who needs eight bunches of broccoli anyway?) you can share it with your neighbour.  Develop a plan on who grows what and pick a date to harvest your foods or share them.  The American based Community Gardening website has a great strategic plan to help you create a community co-op garden in your neighbourhood.  However, this involves having a garden in one designated location, instead of gardens amongst your neighbours.
Sometimes in our fast-paced, hectic world, I feel that we lose sight of what is really important in our lives.  What really is important isn't the fancy 20 foot ladder you have, nor is it the latest electronic gadget you have.  What is important is relationships.  I think that the idea of household tool sharing and garden produce sharing is really neat and gives the perfect excuse to get to know your neighbours better.  Life is short, money is sometimes tight and we don't always want to buy a 20 foot ladder to use just once a year.  So why not lean on each other and work together towards a common goal?   That is, unless your neighbours are really mean people!  Hopefully they are not.
(banner image credit: Andy Roberts)