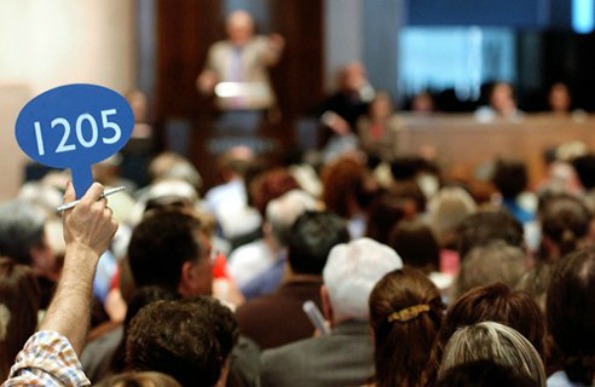 If you're a big fan of the show Storage Wars, you might be able to live vicariously through the idea of participating in an auction by going to a police auction.  Unbeknownst to much of the public, shopping at police auctions can be a great way to save money, especially for big ticket items that you have had your eye on for awhile.
Some big ticket items that are usually sold at police auctions include road bikes, jewellery, other sports equipment, and even cars.  If you have ever wondered where the goods that are seized by the police enforcement go, look no further as they usually end up at the police auction.  These goods are also things that have been lost and haven't been claimed,or have been stolen.
Police auctions are usually available in major municipalities, and are usually held once a year.  They are very popular, especially in Vancouver where your bicycle will more likely than not be stolen.  They are great if you're interested in used merchandise at the fraction of the cost (source: Yahoo).
How You Save Money at Police Auctions
Infobarrel suggests that you contact your local police station and ask when the police auctions are held (this can easily be Googled too, if you live in a major city).  Some people drive dozens to hundreds of kilometres to get to the police auction.  Bring identification with you and bring your researched want-list with you.  Be prepared to be there for awhile and wear some good walking shoes.  Be prepared to know how long you will stay as otherwise, you may just be tempted to buy everything and then get carried away.
Best Bang for your Buck Items
 Bikes (for example, the maximum price that was spent on a bike at the most recent auction in Vancouver was just under $1000)
Electronics
Jewellery (An $8000 appraised diamond and gold ring sold for $1700 at the aforementioned Vancouver auction)
Cars
Collector coins (even a gold bar!)
Tips to Make your Auction a Success
According to wikispaces, some tips to make your auction a success are to begin early at the auction, do your research (know the market value of what you want to buy and know how much you're willing to spend on it).  Also, make sure to cross check the information you get of the item you're interested in buying, and most importantly, know the rules for buying a big ticket item like a car at the auction.
Opt for a Police Auction Online
If you live too far away from a police auction or you want an item that isn't found at your local police auction, a few municipality police stations in the East have joined forces and created a police auction website.  It is called Police Auctions Canada and is composed of auctionable goods from law enforcement agencies in Toronto, Guelph, Hamilton, and Barrie, to name a few.  Some things that they have on auction are new in the box Apple Macbook Pros, Apple iPhone 5's, jewellery, and road bikes.  It's basically like eBay except that you're buying from the police.  Also, it's different from a conventional police auction because it's held online and goods are for sale 365 days of the year instead of just one day of the year.  The proceeds from the Police Auctions Canada website go to support community projects in the area.
Police auctions are a great way to save money on some big ticket items, especially if you don't mind used goods and are in the market for getting more bang for your buck.  All you need to do is to bring some identification and to do thorough research on the items that you are interested in before you go.  Most importantly, make sure you know your end-point or maximum bid.  The last thing you want to do is buy something for the sake of outbidding someone, even though it isn't that great of a deal.  The great thing about going to a police auction is you that you never know what you're going to get when you go there.
Bargainmoosers, have you been to a police auction before?  If so, what did you buy there?