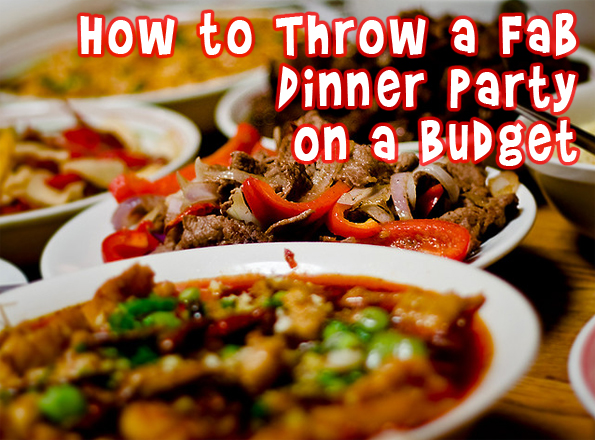 You may have noticed the sun peeking through the clouds, the BBQs being pulled out of storage, and people ditching their boots for sandals. Everyone, this means that winter is finally over! I know it may not seem like it depending on where you live (cough, cough, Vancouver), but the start of summer on June 20th is only a few weeks away, and it's time to get out of your Snuggie-cocoon and become a social butterfly once again. How can you mark such an auspicious occasion as the end of your hibernation, you may ask? By throwing a fabulous dinner party of course!
When I usually think of dinner parties, I can't help but think of Mad Men, impressing the boss, and having a very long credit card bill at the end. First off, as much as I love Mad Men, in this decade there is no place for pearls, poufy cocktail dresses, or a bunch of men smoking and drinking scotch in my living room while I'm slaving away in the kitchen. I don't care how many Don Drapers are coming to dinner, if they aren't willing to do the dishes, they are not invited.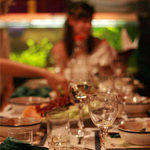 Second of all, unless you want to ensure a complete buzz-kill of an evening, or a really awkward Monday morning, don't invite your boss. Keep the office in the office, and invite friends and family only. That is unless your boss has a yacht and suggests turning your dinner party into a booze cruise. Just make sure you confiscate all phones and cameras beforehand.
Lastly, I truly believe that throwing a great dinner party does not have to cost you your credit score. Dinner parties should be fun, not expensive, and as long as you remember to focus on the food, drinks, music and entertainment, then you'll realize that it's not necessary to buy $20 napkin rings to make your party a hit.
The Food – It's simple science. When people are well fed they instantly become happier, nicer, and more social. Food also serves as the main event of a dinner party, so making sure you serve something a bit classier than pizza on paper plates is definitely a good choice. Then again, I don't think you need to be serving everyone beef tartar and truffles either. Keeping the number of guests on the smaller side will help you stick to your budget, and never turn down a guest's offer to bring a side dish or a bottle of wine. If you really want to cut down on costs, why not throw a potluck or cut out the main meal entirely and just serve appetizers and dessert?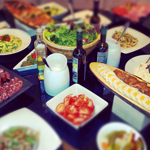 The Drinks – The second most important part of any good dinner party is of course the liquor. If you want to avoid paying hundreds of dollars at the liquor store, it might be time to do a bit of cross-border shopping.  Keep in mind that there are limitations to how much liquor you can bring back duty-free, but I've seen it with my own eyes, a 24-pack of beer is cheaper than a 24-pack of water at Costco in the States. God bless America! If you don't want to be footing the bill to get all of your guests buzzed, then make sure you let everyone know to BYOB and have plenty of mixers on hand.
The Music – I'm sorry, but your dinner party is not the perfect opportunity for you to play that song you just wrote on your guitar. I don't care if you're Jack Johnson, put down the guitar and turn on your iPod to a playlist everyone can enjoy. If you can't be bothered to curate a list of songs your guests will love, there are a million free music streams on the internet to choose from. Otherwise, why not ask all of your guests to bring their iPods to the party so you can have of a variety of music to listen to throughout the night.
The Entertainment – After your guests are fed, drunk, and swaying in their seats to Foster the People, it's time to bring out the board games. I know it may seem like a lame, clichéd thing to do, but can you honestly tell me you don't enjoy a round of Cranium or Scene-It? That's what I thought. If your group of guests is completely opposed to playing board games, whatever you do, do not turn on the TV. That is a sure way to kill a party fast. Playing a Wii or Guitar Hero tournament is however completely acceptable. If all else fails, there's always King's Cup, or just get new friends(!).
Moosers, what do you do to save money when you throw a dinner party?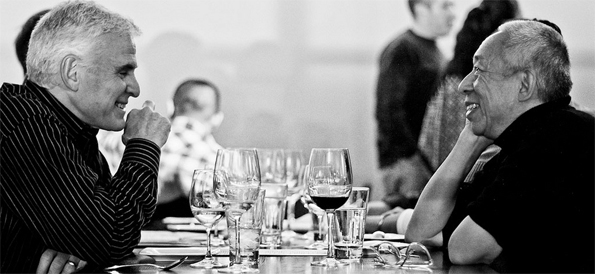 (Image credits: Amelia-Jane, ragingwire, KellBailey, csuspect)