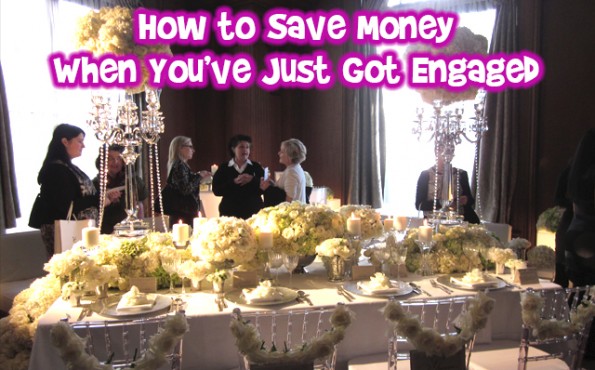 Christmas and New Years are the two most popular days for couples to get engaged (I should know, I got engaged on Christmas Day just two years ago!). With that said, once you announce your plans to wed, you'll be bombarded by advertisements from vendors and opinions from your friends and family on what you need to buy and how much you need to spend. Weddings can be very expensive, and when you're at the beginning stages of wedding planning it can all feel extremely overwhelming. Before you've done your research or started drafting up your wedding checklist, make sure to consider a few of these saving tips for the newly engaged.
Avoid the wedding fairs
Wedding fairs can be a great way to get into that wedding planning mood, but all in all they are more hassle than help. Not only will they cost you between $10 and $20 for entry (or more depending on how upscale the fair is), wedding fairs are really just a way for vendors to try to lure you in and take your money. You can get all of the information you need regarding venues, caterers, dresses, and registries by reading wedding blogs or looking through local online wedding directories. Take it from me, save your money and stay home.

Don't buy any wedding books or magazines
When you're newly engaged it's normal to want to go out and buy every wedding book or magazine imaginable, but trust me, they aren't cheap and will lose their value as soon as you get married. Instead, borrow books and magazines from your library, research as much as possible online, and take a few tips from wedding shows like Four Weddings Canada free to stream on Slice.ca.

Say no to designer labels
Who wouldn't want to have a Carrie Bradshaw wedding complete with designer jewels and shoes? But let's get real here, unless you're on a red carpet, no one's going to ask you who you're wearing on your wedding day. You can get beautiful shoes, accessories, and dresses by shopping the deals online or at the mall, searching for used goods on Craigslist, or spreading the word to see if you can borrow anything from friends or family.

Set a date that's off-season
When is off-season exactly? Generally speaking it's from January to April, however these dates can change depending on your venue. I booked my wedding for the second week in May, which was off-season for my venue, and it saved me literally thousands of dollars.

Start monitoring travel sites to nab a deal
Besides actually getting married, the honeymoon is the second most important part of your wedding celebration. There are few ways you can go about saving money on your honeymoon: you can stay local and just get away for a few days close to home; you can cross you fingers and book a last-minute discount trip; or you can sign up to get alerts from online travel sites so when there is a sale on flights or trip packages you'll be the first to know.

Bargainmoosers, what other ways can newly engaged couples save money right away?
(Image credit: laura dye)