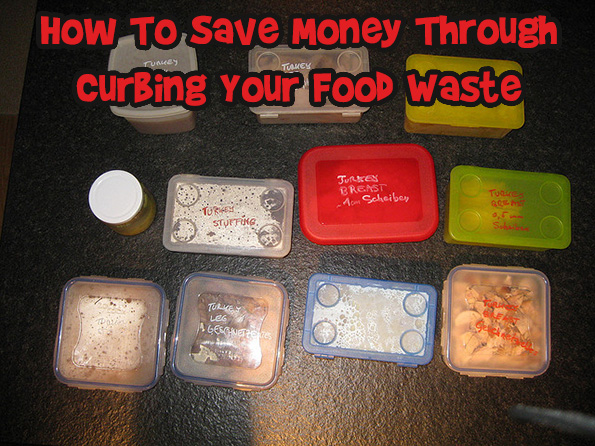 As Canadians, we waste nearly 40% of our food per year according to the Value Chain Management Centre, an independent think tank based in Guelph, Ont.   I have been reading a few articles recently about food wastage, and the amount of food that we purchase but don't eat is astounding.  There is a new documentary called Just Eat It where the filmmakers vow to abstain from purchasing food for a period of six months.  They engaged in what some term as "dumpster diving," and in the process uncovered some surprising things about Canadian food waste.  For example, they found cases of chocolate which didn't have French on the labels, which they assumed was why it was all thrown away.  One of the filmmakers gained over ten pounds during the documentary, since he found copious amounts of food which he didn't want to waste.  Generally, I like to think that we don't waste much food in our house, but when I really think about it I know that we do.  There are always one to two remnants from fruits or veggies that don't get eaten each week, and there are always one or two leftovers that don't get consumed. How can I, a frugal Bargainmooser, curtail my food waste?
Reducing wastage at home
This article on WholeLiving focuses on 12 ways to prevent food waste at home.  One great tip they advise is to keep your eye on your waste for a period of a week to determine what you usually throw out, which can help you plan your grocery shopping and cooking accordingly.   I know for my family we almost always throw out a container of pasta by the end of the week since my awesome-chef husband always makes a huge batch each week.  The problem is that I don't eat pasta, and my girls don't typically have it for lunches.  We will usually re-use some of the pasta for a left-over night, but because he always makes an entire package of noodles, there are still copious amounts of pasta leftover.  Lesson learned: I will coach my dear hubby to cook less noodles.
Plan for at least one leftover meal per week
As I mentioned above, we have at least one night that is a leftover night, where we will eat leftover pasta and whatever else we have lying around.  In addition to pasta, we almost always have some hardboiled eggs and cooked chicken in the fridge.  I think it's fun to make the meal like a buffet or at-home picnic, where people can choose their favourites and enjoy.
Research the difference before "sell by" and "best before" dates
Remember that best before dates don't always have to be adhered to.  Check out StillTasty for information about the different terms which are used.  According to Still Tasty the "sell by" date is the date stores use to determine when to pull a product from the shelf, but often the product will be safe to eat for a period of time after that date is past.  As an example, they recommend that properly stored milk can last for up to a week after its "sell by" date.  It's also important to note that there are expiry dates based on the time that you open the product.  As an example, the cottage cheese I just opened should be consumed within seven to ten days of opening it, but it can also be frozen for up to three months after it has been opened.  I hardly ever freeze opened products from my fridge, and I really should.  I have had many instances where there is a half a container left of cottage cheese that I let expire when I could have frozen it instead.
Juice it or put it in a smoothie
You'd be surprised at what can go in the juicer or a smoothie.  For example, sometimes if I'm at the end of my spinach and I need another green to put in my smoothie I'll put lettuce in.  I have put leftover cooked broccoli in my smoothie as well (not as good as the lettuce).  Check out this Bargainmoose article on Four Way To Save Money On Juicing and this one about how Smoothies Help You Avoid Wasting Food.
Work events and buffets
At work events, think about giving away the leftovers to a needy cause close to your workplace.   A few years ago when I worked close to a city centre, we always donated our leftovers from potlucks and catered lunches to a local women's shelter. Some places need to adhere to food safety laws, so be sure that you check first.  Also beware that foods can go bad quickly, like chicken and dairy.  When in doubt, throw it out.
Food producers
Support the food producers who do their best to distribute extras to local food banks and/or have a public corporate social responsibility policy. Loblaws has an encompassing corporate social responsibility policy which is stated on their website.  It appears they are doing a lot to reduce the food waste from their stores and in 2012 they donated food to the Second Harvest in Toronto.
There are many, many innovative and interesting ways to reduce waste (and therefore money) from food.  Perhaps the simplest is to plan your meals in advance, and grocery shop according to that list.  I learned about Mealime through this LifeHacker article about how the company's founder reduced his monthly grocery spend each month by reducing waste and planning appropriately.  This site specializes in menu planning for singles, and each recipe will take no more than 30 minutes to prepare.  Bargainmoosers, how do you reduce food waste?  Please share your tips below.
(banner image credit: Andrew Nash)