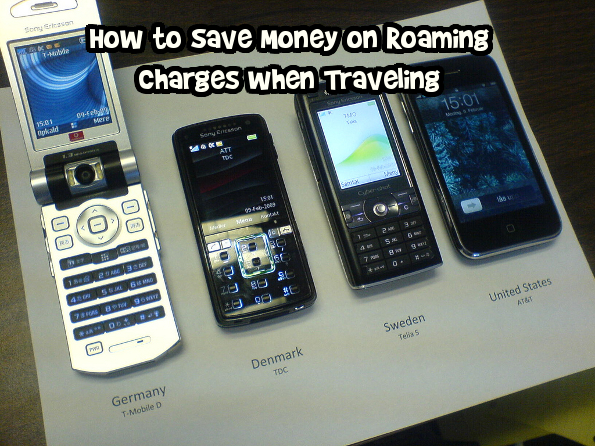 Since Canucks make trips to shop in the United States so frequently (especially since our dollar is so good these days), unbeknownst to us, our roaming charges can really add up. Roaming charges encompass long distance calling in the United States and roaming data.
For example, in a typical Telus mobility plan, here's what it normally costs you:
• Voice calls made in the U.S. are $1.50/min
• Data roaming in the U.S. is $5/MB
• Texting is $0.60/message or $0.85/picture message
How much is 1 MB, roughly? 1 MB = 6 webpages, one streaming Youtube video, 50 emails (but no attachments IN the email), and ¼ of an app.
If you're not careful, the charges of a few quick phone calls, texts, and using your data like you normally would can really add up, even if you don't intend them to. Unfortunately, you can't control if your friends text you while you're in the States. Also, many apps and settings on your phone may be set to the "push" setting where it automatically searches for updates and refreshes your email. In addition, on the iPhone, location services could be turned on unknowingly. Make sure these are turned off before you make a trip down - they are located in the "settings" icon.
Here are some suggestions on how to save money on roaming charges next time you visit our neighbours south of the border.
Call your Mobility Provider to Get an Add-On Before you Go
All you need to do is give a quick call to your service provider before you head down, and let them know you just need a US package added one time only, for the next month. They are usually happy to oblige for your add-on.
For example, Rogers offers 10MB/month for an additional $10. Instead of roughly $5 per MB, you get a discount of 80%, to cost $1 per MB.
In addition, you can add another travel pack for text messages: for an extra $15 you can add 30 sent texts. In my opinion a better idea would be to forgo this add-on and instead use data-based instant messaging apps like Whatsapp or Textplus.
Finally, for an extra $25, you could add on 40 minutes of calling in the United States.
Turn off your Push Notifications
Make sure you turn off your push notifications, locations services, or other settings on your phone that can cause you to automatically use data when you're not aware of it. You could turn on Airplane mode if you want to be really frugal with your data/minutes/texts.
Use WiFi Whenever Possible
Wi-Fi is ubiquitous and is usually free (though beware of airport wifi). With Wi-Fi you can do all your phone calls through VoIP (services like Skype) and text all you want via Whatsapp. In addition, for iPhone users as you already know, Facetime works for free with Wi-Fi.
It might be a little dated, but Wi-Fi Free Spot lists all the free wi-fi spots in each state. Starbucks and McDonalds have free Wi-Fi. On the McDonalds website, you can plug in the zip of the area you're in to find a wi-fi enabled McDonalds near you.
Make Sure your Phone is Unlocked
If you travel frequently, it might be a good idea to ensure you have an unlocked phone (if you bought from the Apple store directly, your iPhone is unlocked, but if you bought from Telus, Bell, or Rogers, it is likely locked). Many phones with Rogers are unlocked as many are equipped to be international phones. The Globe and Mail has a good article on why you should buy an unlocked phone.
I made the mistake of buying a "locked" phone from Telus and it has caused me much grief with international travel.
When you have an unlocked phone, you are able to just switch the SIM card inside the phone with a SIM card originated from the States (with companies like AT&T or Verizon). You're not bound to using your Canadian carrier. That way, you won't have roaming charges, and even with the data-add on, it is much cheaper.
For example, on Roam Mobility, you buy a SIM card for $19.95, put it in your phone, and you can get unlimited talk and text back to Canada and within the United States for $18.95 (if you do a three day trip) for 100MB of data.
If you don't want to restrict yourself in terms of data and long distance minutes or add-ons with your service provider, getting an international SIM card is the way to go.
Hopefully with this information, the days of shocking cell phone bills will be a thing of the past.
(photo credit: mroach)