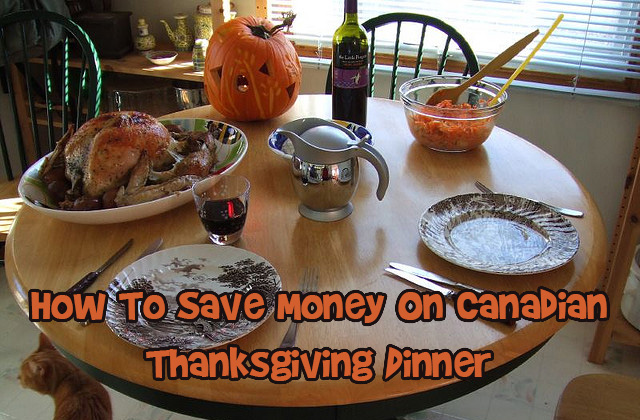 Fall is clearly here, and what better way is there to signal the onset of beautiful fall weather than a family and loved ones get together in October for Canadian Thanksgiving?
Thanksgiving in Canada is usually on the second Monday in October. Canadian Thanksgiving was declared a national holiday in 1879 and provides an important event for us to be thankful for our family and friends, the abundance of food and harvest, and basically how lucky we are to be healthy and happy.  As with other holidays and chances to get together with family and friends, it really isn't about the money spent on decorations, the money spent on food, or how much of a "party" you can throw as a host.  Most people (including your parents) are just happy for the opportunity to get together and connect with each other.  So, before you start getting stressed about what to prepare for Thanksgiving dinner, take a moment to reflect on how lucky we all are to have health, to be able to sit down and enjoy a great meal with your loved ones, and to have an opportunity to connect.
Now that the true meaning of Thanksgiving is out of the way, here are some tips on how to save money on Canadian Thanksgiving dinner to make it a little less stressful on your family's budget:
Thanksgiving for Eight People Under $80
Epicurious has a great post on how to make thanksgiving dinner (pretty much from scratch) for under $80.  It includes the breakdown of the grocery list and the recipe.  Talk about win-win.  You can check out the budget $80 Thanksgiving dinner menu here.  Some of the menu items include roast turkey with oranges, bay leaves, red onions, and pan gravy, brussels sprout hash with caramelized onions, clover leaf rolls, and pecan pumpkin pie.
Decorate from the Outside In

Instead of spending a fortune at Michael's (or even Dollarama though they are much more economical) for decorations, have a look outside.  Investopedia suggests that you look for natural things like acorns, dried leaves, and pine cones on your neighbourhood stroll instead of spending money buying plastic items that are made in China and will likely end up in the landfill anyway.
Bird is the Word
Choosing one meat (e.g. Turkey) instead of a variety of meats (e.g. turkey and ham and prime rib) is a feasible option.  There's more than enough food to go around, a turkey tryptophan coma is sufficient, there's no need to spend more money on other meats.  MSN Money suggested that you can either buy frozen turkey (which is 30-40% less in price than fresh turkey) and defrost it, or you can keep a close eye on grocery store sales.  Oftentimes, large grocery store chains give away a free turkey if you buy X amount of dollars worth of groceries.
When you make your turkey, just be cautious if you're planning to fry it!  According to Bloomberg, in the United States, turkey frying fires cost more than $15 million in property damage every year!  Hot oil + turkey = danger.  Texas is the most common place for Thanksgiving related turkey frying fires, so thankfully that's a little far from us here up north!
Plan Ahead
There was a time when I was addicted to mildly extreme coupon-ing.  If you plan ahead and stock up on Thanksgiving supplies that you are not planning to make from scratch anyway (like cranberry sauce and gravy), you can save a few dollars here and there.  I was able to get free cranberry sauce when I had a coupon combined with a sale.
Have a Potluck Thanksgiving Instead
If any of the above Thanksgiving budget tips do not work well for you, you could always have a potluck style Thanksgiving instead.  It is not considered tacky or cheap to have a potluck Thanksgiving.  Personally, I would rather attend (and host) a potluck Thanksgiving dinner.  This way, everyone feels like they are contributing and giving.  When everyone contributes, everyone is thankful.  What better way to celebrate Thanksgiving than to encourage sharing, caring, and giving?
Happy Thanksgiving everyone!  I hope everyone has a wonderful warm time spent with family and friends.
Bargainmoosers, do you have any tried and true Thanksgiving tips to share?
(banner image credit: Cloned Milkmen)