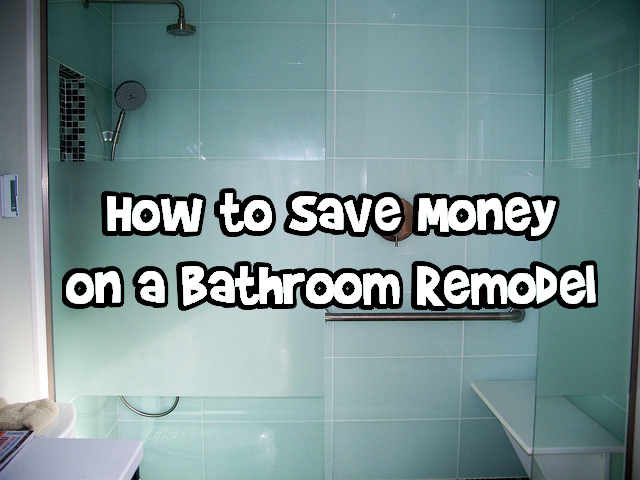 They say that the best bang for your buck in terms of renovations and increasing the value of your home are to focus on updating the kitchen and the bathroom.  Personally when I first bought my apartment a few years ago, I decided that the motel-esque bathroom had to go and I re-modeled the bathroom with the help of a contractor.  I did this before I moved into the apartment and it didn't take very long to renovate.
The average cost of a mid-range bathroom remodel (in the United States) is, according to Remodelling magazine's 2005 cost vs value report (as mentioned by HGTV), approximately $10,500.  According to Porch.com it is even higher. In 2013, the average cost of a bathroom renovation was $16,000 (I suppose inflation had something to do with it).  I was able to remodel the bathroom for about $3000, however I do have a smallish bathroom.  I added a shower door, changed the sink and countertop, changed the light fixtures, changed the shower head, and added glass subway tiles in an aquamarine blue/ aqua blue (my favourite colour) instead of the square white ceramic tiles that were previously there.  I could have just spent less but I wanted my bathroom to have a spa-like feel with the glass tiles.  About two years later I still look at my glass tiles and smile because the colour makes me happy.
Here are some ways in which you can update your bathroom on a budget.
Don't Gut It
Just like with a kitchen remodel (for tips on how to save money on a kitchen remodel, check out this Bargainmoose post here), the major costs are incurred when you decide to rewire or redo the plumbing to the room.  If you are able to keep the configuration of the bathroom (e.g., the sink where the sink currently is and the toilet where the toilet currently is) then it will save you a lot of money on your bathroom remodel.
Like I Said...Don't Gut It
Going even further, if you are able to keep certain aspects of the bathroom, then you will save even more money.  For example, with my bathroom renovation, I keep the tiles on the floor, I kept the cabinetry for the bathroom vanity (it was made out of wood, not MDF so it was good quality) but just changed the countertop from a granite to a light coloured Corian countertop.  I even kept the bathtub.  The bathtub was slightly chipped in one spot (the black was showing through a bit) and instead of buying a new bathtub, I got my contractor to paint over it with a white paint so it covers up the chip that was previously there.
Furthermore, I could have saved more money on the bathroom remodel by using a glass tile accent instead of just having the entire bathtub area tiled with glass tile.  The glass tiles cost me about $1000 by itself, which is pretty price (not including the labor).  You can choose a focal point for the more expensive tile (e.g., a long horizontal line on a white subway tile background) to save money.
Be Lavish on the Accessories
U.S. News suggests that if you spend a little more on the accessories (e.g., things that can be updated without needing a wrench), then it will save you money to update your bathroom without spending too much.  For example, they mention getting a nice shower head (like a rain shower head) to update your bathroom.  Or gett nice bamboo towels.  Or change the bathroom hardware.  Updating to stainless steel from gold coloured and nickel coloured accessories do a lot for updating your home.  For your accessories, you can save money by going to places like Winners to look for nice bathroom accessories at a discounted price.
A Coat of Paint Does Wonders
Just like with the rest of the home, an updated coat of paint can do wonders for your bathroom renovation, according to Bankrate.  For around $50 for a can of paint and some do it yourself eagerness and elbow grease, you can also paint your bathroom and update the look easily.
Bargainmoosers, do you have any other tips on how to save money on a bathroom remodel?  How much was your budget for your bathroom renovation?
Photo credit: MWMS1916