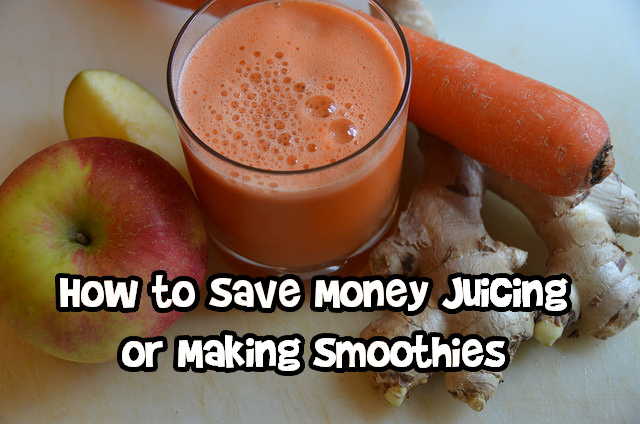 The juicing and smoothie craze has taken North America by storm in recent years.  Many people tout the benefits of juicing and smoothies, benefits such as convenience (getting your meal in a drink is a pretty convenient way to go if you're busy on the go), not to mention the nutritional benefits.  The nutritional benefits of drinking juice or smoothies include getting nutrients at the source (making it easily digestible for your body to absorb instead of working to break it down).
However, with all the benefits, juicing or smoothies can be expensive.  For example, a Vitamix (a very high powered blender) costs about $400 CAD and is considered to be every smoothie lover's best friend.  Some people also feel that buying all those fruits and vegetables and blending it down to one drink, although nutritious, can be expensive (especially if you have to do that all the time for each drink you make!).
Despite the potential high costs of juicing or making smoothies, here are some ways in which you can save money on this nutritional diet change.
To Juice or Blend, That is the Question
First off, it would be prudent to decide whether to juice or blend smoothies.  They require different appliances.  To make juice, fiber is removed from the fruit or vegetable and often it is discarded.  To make smoothies, you drink whatever you throw in the blender (including protein powder, soy milk, peanut butter, etc.).
This great MoneyCrashers article can help you decide whether you want to juice or blend.   There are pros and cons to both.  I would personally lean more towards blending myself.
Buy the Right Machine
Although the Vitamix is $400 and is considered a fantastic blender for making smoothies (and soups, etc.) not everyone needs a industrial kitchen-grade blender.  The magic bullet (under $50) is great, however it does not grind ice down very well and does not grind seeds very well.  The switch to the Nutri-Ninja  ($100 at Canadian Tire or Walmart) was great and makes perfect smoothies.  Also, the Nutri-Bullet is similarly priced and works similarly well.
According to Fit Juice, the best juicers under $100 are the Breville 700W compact juice fountain and the Hamilton Beach Big Mouth Juice Extractor.
Save Money on What You Put In
There are several ways to save money on juicing or blending.
Buy your fruits and vegetables on sale
Only buy organic if you need to, for example, check out the list of the dirty dozen and the clean fifteen (for example, some of the dirty dozen fruits and vegetables include apples, strawberries, grapes, celery, peaches, spinach, sweet bell peppers, imported nectarines, cucumbers, cherry tomatoes, imported snap peas and potatoes- these are fruits and vegetables that you would want to buy organic if you can)
Freeze your fruits and vegetables if you can, especially berries, blueberries freeze well and taste fantastic in smoothies
Raid your fridge, use leftovers that you have in your fridge for what you are going to throw into your juicer or smoothie
Throw in frozen kale and spinach before they wilt, which is a great way to avoid food wastage!  Make your greens and freeze them in cubes beforehand, so that you can just throw them in your smoothie when you're ready to make it
Save Money on What you Take Out of the Juicer or the Blender
Many people discard the pulp after juicing, but using the pulp in recipes or using it in soup is a good idea to keep from adding to food waste.
If you have leftover smoothie, Whole Foods Market recommends that you can pour whatever is leftover to make a delicious smoothie ice-pop for a treat later.
Save Money By Making It Yourself
Of course, it goes without saying that you will save more money if you make smoothies and make your own juices.  Booster Juice, Jamba Juice all are delicious but you are paying $5 a smoothie or a juice.  I once went to a juice making shop and paid $8 for a 335mL amount of cold-pressed juice.  It was delicious but I definitely wouldn't be able to drink that every day.
Bargainmoosers, do you juice or make smoothies?  Do you have any money saving tips to share?
Photo Credit: Bert Holf