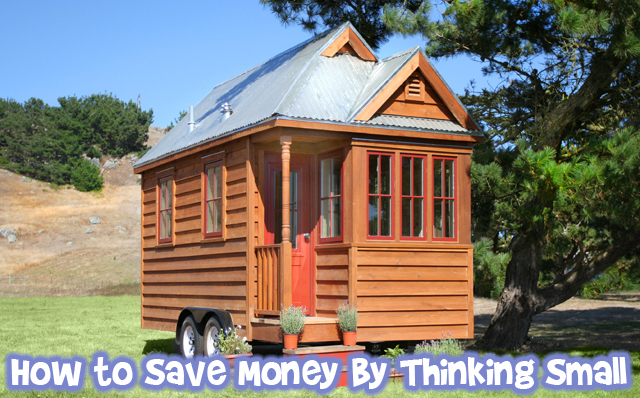 Have you heard of the tiny house movement (a.k.a. the small house movement)? Essentially, it's a movement that promotes simple living in tiny spaces to have a financially free life. Challenging the popular North American notion that bigger is better, many people are now choosing to forego the average 2,480 sq. ft. home and 30 year mortgage to live in a house the fraction of the size and cost. Living in a 300 square foot quarters may seem cramped at first, but there are a number of tiny house owners who have created homes that are spacious, energy efficient, and cost less than a normal down payment to own.

Current tiny house owner Tammy Strobel lived in small apartment suites for years until deciding to downsize even further and build her own 128 square foot tiny house, reports The Huffington Post. Strobel wanted to live debt-free, spend more time with her family and friends, and be able to afford working from home as a full-time writer. In order to do all of these things, she knew she needed to make a big change and join the tiny house movement. As noted on Strobel's website, her home was designed by popular tiny house architect Dee Williams, it rests on wheels to enable easy travel, and it only cost her $33,000 to build.  

Living in a tiny house if you are single or living with your partner is one thing, but it is quite another if you have a family to shelter. That being said, the Berzin family have gone on to prove that it is indeed possible to live small with a family of four. More than four years ago, Karl, Hari, and their two children moved into their 320 square foot home after losing their 1,500 square foot house and family-owned restaurant during the recession. In order to live mortgage-free and pay off their debts quicker, they moved from Florida to the Blue Ridge Mountain area, bought a cheap piece of land, and spent $12,000 to build their very own tiny house. Since then, they have been able to become closer as a family and have the freedom to aggressively pay off their debt and save up for their future.

If living in a tiny house still doesn't sound like your cup of tea, then you may want to follow in the footsteps of Brittany Yunker and build a small house to rent out instead. Yunker's abode, known as The Bayside Bungalow, resides in Olympia, Washington and rents out as a vacation home for $65 - $95 per night. She bought the plans from the Tumbleweed Tiny House Company and built the home herself for only $17,000. Based on her weekly and seasonal rates, if she rented out her bungalow everyday for a year, her home would have paid for itself and turned a profit.
Bargainmoosers, would you ever ditch your current digs to live in a tiny home?
(Image credits: TinyHouseTalk; Huffington Post; Inhabitat; The Tiny Life)