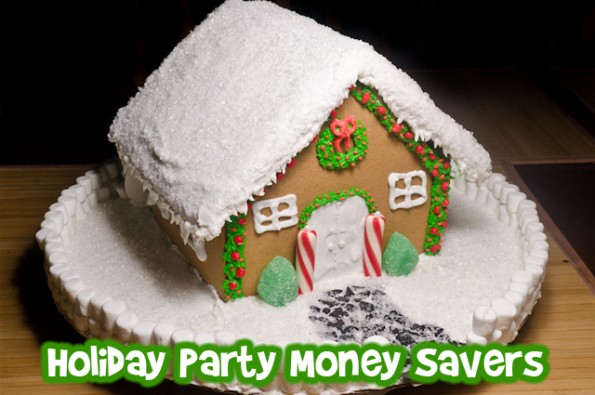 It's that time of year again. You may notice that your calendar has become increasingly more cluttered lately, and that's because holiday party season has officially begun! As much fun as it is to get together with co-workers, friends, and family to celebrate with some eggnog and a secret Santa gift exchange, being a guest or a host at one of these parties can easily become a real budget-buster. As reported by The Globe and Mail, Canadians are expected to spend an average of $1,610 on holiday related purchases and activities this year. If your jaw just dropped after reading that, then you may want to consider a few of these ways to cut back without having to cut into your social life.
Do you love being deemed the host with the most (or hostess with the mostest)? If the answer to that is "Yes!", then chances are you're probably going to be hosting a party of your own this season. Hosting a party can be expensive if you get caught up into thinking you need to replace all of your tableware with holiday themed plates and martini glasses. Instead of spending hundreds of dollars at Pier 1 on Christmas tree salad bowls, and a candy cane inspired fondue set, go to the dollar store or supermarket and buy a few holiday themed disposable plates, cups, and napkins. As for saving money on food and drinks, I suggest making your party either a BYOB potluck dinner, or skip dinner entirely and just serve appetizers and snacks for everyone to enjoy. Another fun thing you could do is to hold a cookie exchange. I've been doing this for the past couple of years with some co-workers, and it's a fun and cheap way to get a bunch of different homemade cookies to share with all of your guests.
As for making sure your party is filled with fun activities, a secret Santa gift exchange is always a hit. Just make sure to set a limit on how much everyone can spend to keep costs low, or restrict all gifts to being homemade or previously used. Another fun and cost-efficient activity you could do is to set up a gingerbread house-building race. Divide everyone into teams, purchase a few gingerbread house kits from your local craft store (costing you no more than $15 per kit), and let the games begin!
If you don't plan on holding a holiday party at your place this year, you'll still most likely be attending one or more of these events as a guest. If it's a staff party held by your employer, it can go one of two ways. Either it's a free event in which all you have to do is show up for a free drink and meal, and dance the night away; or you and your partner have to pay a fee to attend. No matter the case, it's always important to make an appearance at a work function, as it can show your employer that you are a real team player. However, if you work for a bigger corporation in which you will be hard to find amongst a convention centre full of other employees (as I experienced for the first time last year), you may want to save the admission fee and opt to attend only functions in which your absence won't go unnoticed.
To save money on attire, if the next party you will be attending will have completely fresh faces from the last one you went to, then don't bother buying a new dress or suit. If that's not the case and you don't want to be caught repeating an outfit, see if you can borrow an outfit from a friend or relative, or check out the Hot Deals section of this site to take advantage off some deep discounts.
Bargainmoosers, how do plan on saving money on holiday parties this year?
(Image credit: madmarv00)