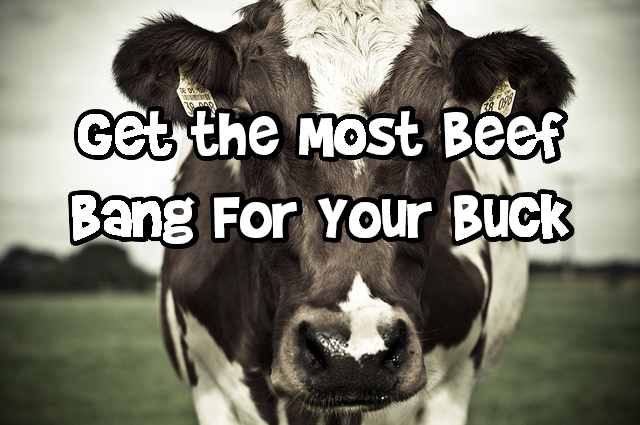 I have a large amount of ground beef, which we purchased on sale a few weeks ago, which is sitting in the freezer.  For tonight's dinner I am going to use the ground beef, but I want to make a dish which my family will love, yet is delicious and cost-effective (plus I'm lazy and don't really want to go to the grocery store today if I don't have to).  My lovely hubby does most of the cooking in our household as he "prefers his own cooking" (his words), so when it's my turn to cook I get it over with as quickly as possible.  What are options for dinner using ground beef as my main ingredient, and how can I make the meal as cost-effective yet healthy as possible?
Shepherd's pie
I am a die-hard shepherd's pie fan.  My mom was never an avid chef when I was growing up, but shepherd's pie was one dish she got right 100% of the time that she made it.  Her dish has the classic full-fat mashed potatoes on top with a mixture of ground beef and frozen veggies on the base.  I'm pretty sure her recipe is full of sodium and fat, but it tasted oh-so-good.  So, you get the picture that I love shepherd's pie.  My current healthy lifestyle really isn't conducive to my mom's recipes and I try to keep our meals dairy-free, with lots of whole, fresh ingredients included.  This recipe from Skinny Taste is a strong contender, as it's easy to make it dairy-free (subtract the sour cream in the potatoes), and is low calorie with a relatively high amount of protein per serving.  I also found this recipe from Iowa Girl Eats, and she uses cauliflower in her mashed potatoes, which really increases the nutrition value in the dish.  I have made cauliflower pizza crusts before, but I have never made it as a mashed potato-like substitute.  For tonight I would be making the Skinny Taste recipe so let's evaluate how much this recipe will cost me:
2x cartons of broth $1=$2 (I bought these on sale a while ago)
2 pounds of lean ground beef =$4
1.5 pounds of potatoes= $1
Onion, celery, spices = $1
Frozen veggies = $1
Total cost for shepherd's pie is around $9
Picadillo
I have never made picadillo before, but on my goodness, it looks amazing.  It seems like it's a popular dish, as there are lots of recipes for it on the web.  This recipe from My Recipes looks lighter than some, and seems incredibly easy to make.  It is packed with healthy, colourful veggies, and has olives in it, which my smallest daughter will love.  It is supposed to be served on rice, and I would make that for my family, but I would also make Cauliflower rice for myself to go with this dish.  The macro nutrients are slightly better in this dish with less carbs and more protein, however, those do not include rice if you choose to serve it alongside the picadillo.  How much will this dish cost me?
2 pounds of ground beef= $4
Onion, garlic, carrot= $1
Tomatoes= $1
Tomato sauce= $1
Peppers= $1
Raisins= $1
Other miscellaneous ingredients= $2
Total cost= $11
Meatballs
Meatballs are extremely versatile, and I can make them into a few different meals: spaghetti and meatballs, meatball subs, rice and meatballs, etc.  I usually don't follow a recipe when I make meatballs, but for the purposes of this article let's say I do!  This meatball with spicy tomato sauce recipe comes from My Recipes, and they recommend serving it with pitas on the side to soak up the delicious-looking sauce.  My mouth is watering just looking at the recipe.  I think meatballs are one of my favourite things to make.  To keep things consistent I will assume that my meatball recipe will have all ground beef and no ground lamb.  Let's see what the cost of the meatballs will be:
1 pound ground beef= $2
Onion, garlic, herbs= $1
½ cup breadcrumbs= $0.50
1 can tomatoes= $1
1 egg= $0.50
3 pitas= $1.50
Total cost= $6.50
Beef Tacos
Tacos are a weekly dinner for us at the Robinson household.  They are a hit with both kids and adults alike.  Who doesn't like tacos?  While we usually cook with ground chicken or turkey when we make tacos, we do mix it up from time to time by using beef instead.  The great thing about making tacos is that it is so easy to make, and people like stuffing their own shells or tortillas.  It's an easy meal to sneak in some vegetables to with kids as well; through guacamole, salsa and fixings.   Honestly, if we're cooking tacos we usually use a kit, but for the purposes of this article, let's cost out a delicious yet healthy taco recipe courtesy of Martha Stewart.
¾ pound ground beef= $1.75
Onion, garlic and spices= $1
Peppers= $1
12 soft tortilla shells = $3
Fixings= $3
Total cost = $9.75
It looks like making meatballs with my ground beef is the cheapest bang for my buck.  I made some cauliflower "rice" tonight with my dinner, and that was a hit with the entire family.  I will definitely try to make the meatball recipe very soon.  I'm also really interested in trying the picadillo recipe, even though it is slightly more expensive to make, I really want to try it out.
Bargainmoosers, how do you cook your ground beef? What cost-effective recipes do you use?
Photo credit: B3d_