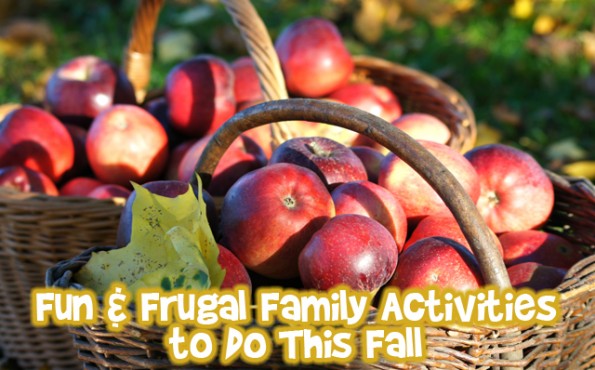 Fall is by far my favourite season of the year. With the changing of the leaves, the crisp autumn air, and all the delicious treats that go hand in hand with Thanksgiving and Halloween, what's not to love? It's also a great time of year to spend time with your family, especially since there are so many options for frugal fun come autumn. Here are few ideas for ways you can spend quality time with your family this season for hardly any money at all.
1. Go apple picking
This is a great activity to do with your family this fall. Not only is it the perfect excuse to get everyone outside, but it is also a fun way to educate you and your kids about agriculture and local farming. The best part is that at the end of it all you get to take home as many apples as you like! Many apple-picking places don't have an admission fee but just charge you by the bushel (which is approximately 42 lbs or 100 apples). So, if you picked a bushel of apples with your family at say Archibalds Orchards in Bowmanville, Ontario, your entire outing would only cost you $20. That sure beats a trip to the movie theatre!
2. Visit the pumpkin patch
Visiting the pumpkin patch is an annual tradition in my family, so much so that even though my sisters and I are all well into our 20s we still made a trip out with our parents last year. From my experience most pumpkin patches do charge an admission fee, anywhere from $5 - $15 per person, however there are usually a number of activities included in the admission price such as wagon rides, petting zoos, corn mazes, and kids games. Besides paying for admission, a trip to the pumpkin patch can cost as little or as much you like since most pumpkins are priced out by the pound. So, if you want to save some money on your outing make sure to pick small or medium sized pumpkins, and leave the 1,000-pounder for somebody who has money to burn.
3. Carve spooky Jack-o-Lanterns
After visiting the pumpkin patch, why not start a friendly pumpkin carving competition with your family? Year after year my family used to try and out-carve each another, even though my dad would always win. If you want to make sure you start your competition on an even playing field, download some free pumpkin carving stencils from a website like Pumpkin Pile with the same difficulty level. Before diving right in, ensure that everyone has the proper tools to work with and safety precautions are put in place.
4. Bake some seasonal treats
What's fall without a delicious apple tart or pumpkin pie? If you do end up at the apple orchard or pumpkin patch, then another activity you can enjoy with your family is baking some sweet treats to enjoy on Thanksgiving or Halloween. There are a number of easy and cheap-to-make recipes on Pinterest, but my personal favourites are Pumpkin Toffee Cookies (Two Peas & Their Pod have a great recipe for this), and Candy Apples (check out Divas Can Cook for their easy-to-follow instructions).
Bargainmoosers, what frugal fall activities do you do with your family?
(Image credit: al71)