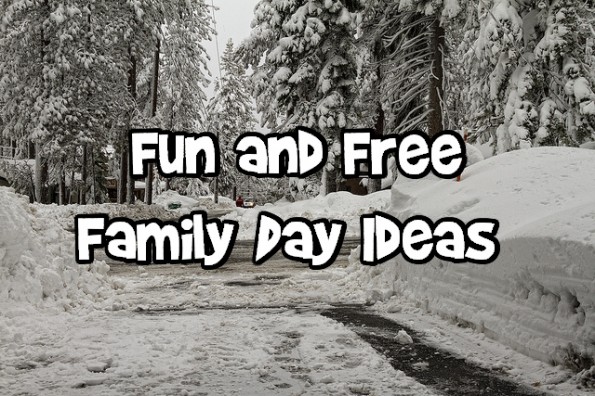 Family Day helps us Canadians from getting depressed in the cold, long winters, but there isn't a federally declared Family Day.  According to Wikipedia, Family Day is called Louis Riel Day in Manitoba and Islander Day for the folks on Prince Edward Island.  British Columbia finally joined the bandwagon in 2012 and Family Day in British Columbia is celebrated on the second Monday of February.  Elsewhere in the country, it is celebrated on the third Monday in February.
Family Day allows you to focus on your family instead of working Monday to Friday for the daily grind and getting depressed.  Studies show that family time can boost children's self esteem, enhance relationship bonds, and improve social skills.  However, for many, it is another reason to spend a lot of money, especially if you are already busy paying off the aftermath of the expensive holiday season still.
Family Day doesn't have to be another reason to spend a lot of money though.  Here are some fun and free Family Day ideas that won't break the bank.
Explore and Go Geocaching
Geocaching is a great fun family thing to do that inspires curiosity in your children and also in yourself!  What is Geocaching?  Geocaching is live outdoor treasure hunting.  To geocache, you are given coordinates and you attempt to hunt these coordinates down through your GPS to find a small container with the treasure inside.  All you need is a GPS or a GPS-enabled mobile phone (e.g. Google Maps or the Maps on your iPhone) and a Geocaching membership.  Also, you would probably need access to a vehicle too as I think geocaching might be difficult using public transportation.  It is free to register and you can do it through this link.
Snowshoe the Winter Blues Away
Snowshoeing is a great activity for both younger children and older children alike.  Although if you do not have snow shoes you will need to rent a pair (or even better, borrow a pair), which will set you back about $10 for a day rental.  There are many trails that are public access and do not require a snow shoe trail pass.  In fact, you can also try snowshoeing in your neighbourhood, if you are lucky enough to have a big blast of snow.
For some inspiration, you can check out Snow Shoe Mag for more ideas on how to get started with snowshoeing.
Camp in Your Living Room
For a warm and toasty indoor activity (or if it is raining cats and dogs outside) and if the space in your living room permits, set up your tent and roast some marshmallows over the stove and make some s'mores.  The main idea is to just avoid having a camp fire in your living room :) The  Campfire chic  blog has a great post on how to host your own indoor camp out to beat the dreaded cabin fever.  My Kids Adventure blog also has another how-to on creating a fantastic family time night in your living room.
Granted you won't be able to camp in your living room all weekend long (that would seriously create a bad case of cabin fever), spending one night in a tent is still fun!
Go for a Ride
Some of the fondest memories I have as a child  are from road tripping in my dad's Dodge Caravan.  There was nothing quite like sitting in the car, driving to a new adventure.  I remember playing games and counting how many things are the colour blue or the colour red.  Playing another game and thinking of countries that start with the letter C (e.g. Canada) and then taking the last letter of that country and thinking of another country (Antarctica)... and the game goes on until everyone is mentally exhausted.
Also, if you are interested in some frugal Family Day activities that might not necessarily be free (but still frugal, and almost free), Today's Parent has a great list of fun family activities and things to do on Family Day across the country.
Have a great Family Day, and most importantly, enjoy the new memories that you will create with your family!
Bargainmoosers, how do you like to spend your Family Day?
Photo credit: Jonathan