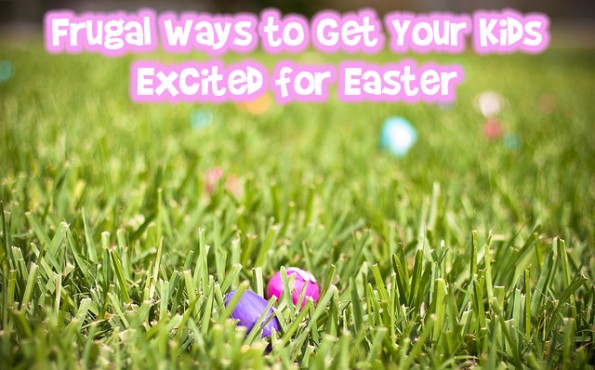 With Easter just around the corner, it's time to get your kids excited for the Easter holiday without going overboard and spending tons of money on expensive decorations or treats. With a little imagination, a few useful materials, and a bit of time and effort, you can make some long-lasting memories with your family without spending more than a few dollars.
Serve up a bunny breakfast
Being creative with breakfast is a cheap and fun way to get your kids ready for the Easter holiday by using ingredients you already have in your kitchen. Either serve it up on Easter morning or leading up to the big day. This idea was inspired by creations found on B-Inspired Mama!'s blog and Pinterest.

Get festive with your after-school snacks
If you're having trouble getting your kids to eat their vegetables, maybe you should make a veggie platter fit for an Easter bunny? For other yummy snacks, try making an Easter-themed salty-and-sweet mix, or turning ordinary cheese puffs into giant Easter carrots. Thanks to Creative Organization, Savvy Mom, and Life Music Laughter for these great ideas!

Make some Easter-themed crafts together
There's no better way to spend quality time with your kids around Easter than to make some fun crafts together! Sassy Dealz has instructions on her blog on how to make kid-friendly puffy paint, and Craft Bug's blog will show you how to dip dye Easter eggs or turn a normal plastic cup into a googly-eyed bunny!

Create your own decorations
You don't need to go over your weekly budget just to get your home ready for Easter. All you need is some paint and a few other cheap materials to DIY everything you need for a fraction of what it would cost you at the store. Check out these great decoration ideas from The Lady Thing, Serenity Now Blog, and Eclectically Vintage.

Get free Easter books and movies from library
Last but not least, every kid loves a good story to get excited about the holidays, and there are a number of great Easter books and movies you can enjoy together for absolutely free at the library.

Bargainmoosers, how do you get your kids excited for Easter on the cheap?
(Image: Robert S. Donovan)