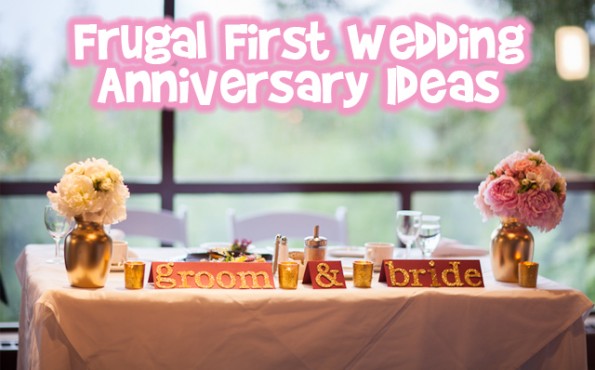 In just a few weeks time, my husband and I will be celebrating our first wedding anniversary. It sure has been a whirlwind of a year; we got married, visited California for our honeymoon, and then moved from Vancouver to Toronto. We've experienced so much in our first year of marriage and I definitely want to make sure we mark this occasion right, while still being budget-conscious. Here are a few frugal first wedding anniversary ideas I've found that will help inspire any of you newlyweds gearing up to celebrate your first wedding anniversary without breaking the bank.
Start a New Tradition With an Anniversary Photo
There's no better way to mark a special occasion than with a photo shoot! We absolutely loved our engagement and wedding photos, and what a great idea to take a new photo of ourselves each year so we can look through them when we grow old, or to show our future children. Hope and John shared a great photo idea on their blog. They took a framed wedding portrait, and then photographed themselves holding it on their one-year wedding anniversary. On Jessica's blog, The Vanishing Are Running, she combines tradition with modern by taking a photo with her husband wearing paper hats (paper being the traditional gift for your first year of marriage).

Put Your Love in Permanent Ink
Although everything's on the internet these days, it's still fun to see your name and photo in print. Check out your local newspaper to see how much it would cost to place an anniversary announcement in the paper. Sometimes it can be as low as $35.

Recreate That Special Day
Just like everyone warned us, our wedding went by so quickly we didn't even get a chance to try out the hors d'oeuvres that were served or enjoy a slice of wedding cake. I'm sure we're not the only ones out there who experienced the same thing, so why not recreate the same menu you had at your reception and serve it at home with your spouse. It's a great way to bring up memories of that special day and to save money by eating at home.

Make Some Memories by Doing Something New Together
Your wedding day and first year of marriage, like mine, was full of memories and new experiences. Instead of just going out for dinner at a fancy restaurant for your anniversary, why not try something new and exciting to kick off year two of your nuptials? It doesn't have to be expensive to be exciting. It could be going to the drive-in theatre for the first time. Or, it could be facing your fears and going on that big roller coaster at the amusement park. It could even be going on a picnic at a park you've never been to. Whatever you choose to do, as long as you are sharing the experience with your spouse, that's really all that matters.
Bargainmoosers, what frugal first wedding anniversary ideas can you suggest to newlyweds approaching this milestone?
(Image credits: tico_24; David Amsler; Bruce Fingerhood; Houndstooth4)