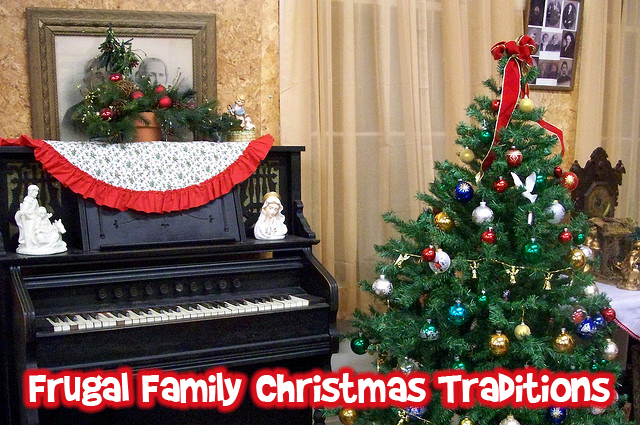 As much as everyone loves the tree, the decorations, the gifts, and the food when it comes to Christmas, I think it's safe to say that it's the traditions your family and friends share that really make December 25th a special day. And the great thing is, most of the time these traditions that mean so much to you and your loved ones don't cost a penny! If you are looking to add on a few traditions this Christmas or just want to spice things up a bit, consider adopting one these Christmas traditions this year:
Re-watch a favourite holiday film
Since I can remember, my family and I have watched It's a Wonderful Life every year on Christmas Eve. It's to the point where everyone can now recite all of the lines perfectly, and we know at exactly what part my dad will chime in with some behind-the-scenes trivia. For a while I thought my family was the only one to ever do this until I started finding out from others that they do the same thing with other Christmas classics like A Charlie Brown Christmas or A Christmas Carol. This is one tradition I know I'll be carrying on when I have a family of my own.
Sing Christmas carols
Whenever I think of Christmas, I can't help but remember that scene in Little Women when the whole family gets together around the piano to sing Christmas carols. You, like me, may not consider yourself much of a performer, but it's the holidays! Chug a bit of eggnog, put on your dorkiest Christmas sweater, and start singing Rudolph the Red Nose Reindeer to truly get into the Christmas spirit!
Crack open some crackers
One of my favourite things about having dinner on Christmas is cracking open the Christmas crackers. Everyone pulls their cracker with a partner, has to read out their corny joke card inside, and no matter what has to wear their paper crown. Just make sure not to pull a Mr. Bean and make one giant cracker. That is unless you don't mind spending Christmas in the emergency room.
Open gifts on Christmas Eve
My mom is Quebecois, so when she was little her family used to open up all of their presents on Christmas Eve. When I grew up, we adopted a bit of this tradition and now open one gift on Christmas Eve and save the rest until the morning. If you want to save all the gifts until Christmas day, another tradition is to open up your stocking on Christmas Eve. This might also be a good way to negotiate getting your little one to bed when they are just too excited to go to sleep.
Get creative with Santa's milk and cookies
I know the tradition is to set out milk and cookies for Santa before Christmas, but in my family we used to set out carrots and celery sticks for his reindeer too. But you can go a step further and be bit more creative by leaving Santa some leftovers from dinner (he's got to be tired of just cookies by now), and maybe even a thank-you card from you children.
Give back to your community
Personally, I think this is the best tradition you and your family can adopt. There are a lot of people in need during this time of year, so a few hours volunteering at the soup kitchen with your loved ones may not seem like much but it definitely will make a difference in many people's lives. Another tradition is to have your children choose a few of their used toys to donate to a toy drive. This is a great way to introduce charity to your kids at a young age, and may also help you make room for any new toys they get this Christmas.
Bargainmoosers, what Christmas traditions do you do each year?
(image credit: Jo Naylor)