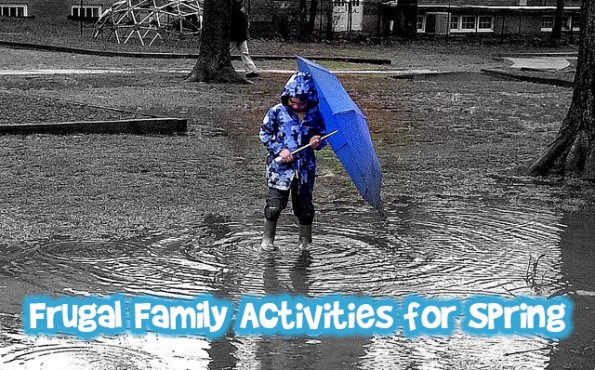 Spring is here, which means you can finally ditch your winter gear (in most parts of Canada anyway), put on your rain boots, and enjoy some family time outside. Instead of just going to the park, here are a few alternative ways you can make some lasting memories with your kids this spring for hardly any money at all.
Go on a real-world treasure hunt
Have you ever heard of geocaching? It's essentially a real-world treasure hunt! All you need to do is grab your GPS or download a free geocaching app onto your phone, then start your hunt for geocaches (or treasures) hidden in specific locations. What's really fun about this is when you find the geocache, you have to write about your discovery in the enclosed logbook, then leave something of equal or greater value behind for someone else to find.

Visit the farmer's market
What better way to teach your kids about supporting local vendors and eating healthy than visiting your local farmer's market? Try going there with a recipe in mind and getting your kids to help you find all the ingredients you need so you can prepare it together at home later that night.

Make an egg carton garden
Spring is the time to start your garden, even if it's just in an egg carton. To get your kids familiar with the process of gardening and the importance of taking care of a growing and living thing, give each of your kids their very own egg carton to look after. Not only will this teach them about responsibility, but they'll also get to experience seeing a seed transform into a living plant!. Thanks to Dainty Cate for this great idea and detailed instructions.

Splash in some puddles
The mess afterwards may not be fun to clean up, but it's a great way to create some memories and bond with your kids for absolutely free!

Make homemade birdfeeders
Don't you just love hearing the birds chirp when you sit down for breakfast with your family? Thanks to Little Love and Sparklin Becks, you and your family can attract birds to your house everyday with these cost effective homemade birdfeeders.

Go for a family hike
Whether it's on a local trail near your house, or a steep mountain in a national park, take advantage of spring's moderate temperatures with a good ol' family hike. It's a great way to get some exercise, enjoy nature's wonders, and bond with your loved ones at the same time.

Bargainmoosers, what frugal activities do you plan to do with your family this spring?
(Image: Jim Larrison; Ginny Lacey Gorman; Scooter Lowrimore; John Bergquist; Janelle; Janelle)