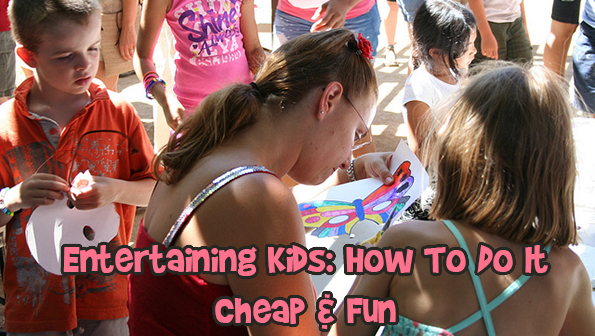 With Christmas break coming up, a lot of us are freaking out about the time the kids will take off school.  How will we keep them busy?  Will they be bored?  If you have read some of my earlier articles, you may know that I'm a fairly "granola" type of parent, who is also very thrifty.  My husband is a stay at home dad, so we don't have a ton of expendable cash to spend outside the necessities and this includes entertaining our children.  We have raised our children to be fairly self-sufficient, so they are great at playing with each other, and on their own.  But we obviously like for them to experience fun stuff as much as possible.  My hubby is an introvert, so we spend a fair bit of time at home, and we all love family time together.  That said, there are lots of things outside of our cozy house that our children enjoy.
Play dates
When I was little the term play date wasn't used.  We would play outside with our friends after school, on weekends, and whenever we could.  Now-a-days neighbourhood play doesn't happen as much as it once did (at least it doesn't in our neighbourhood).  My kids have play dates with their friends every so often, and it's a huge treat for them.  Either my kids will go to a friend's house or vice versa.  When my daughters are with their friends they play with their toys, with crafts, make-believe, etc.  It's a great (free) way to keep my kids occupied and happy. This weekend my daughter had her friend over and they occupied themselves by making books and playing library all afternoon, then we decorated a gingerbread house.
Coupons and redeeming points
My daughter's 6th birthday was the other week, and we held it at a popular indoor playground.  In their grab bags, every guest received a $1.50 off coupon towards their next visit.  Given that the cost of entry is about $7 per child, $1.50 off really reduces the cost of our next visit to the playground.  If I bring both my kids (and I'm able to use two coupons), the total cost would be $11.00 for an afternoon of fun.  Adults are free, so this is a pretty cheap outing.  Where playgrounds and entertainment venues make a lot of money is on their food and drinks, so we'll be sure to eat before we go and bring drinks for the kids.  I absolutely refuse to spend good money on food or drinks that are laden with sugar and fat, and have little to zero nutritional value.  We take our food and drinks everywhere we go.
Another cheap or free option for entertaining kids is to redeem Air Miles or other points.  I have written before about how I enjoy redeeming Air Miles for tickets to places like the Zoo.  We are also planning a trip next year to Disney, and I am planning on saving all my Air Miles to redeem for some Disney theme park passes.  We are planning on going to see the movie Frozen over the Christmas holidays, and I redeemed some Air Miles for some movie passes.  This will be a free afternoon for our family, I can't wait!
Crafts
We always ask for craft kits or any type of craft for our kids' birthdays or Christmas.  They are free, since they are gifts, and provide hours of creative playtime.  My eldest daughter enjoys making hairbands and necklaces, and my youngest enjoys puzzles.  They are fun for parents too, as I'm not someone who particularly enjoys getting on my hands and knees to play with my kids.  When we craft together we are both participating in a fun, creative activity.
Check out free events in your community
These are especially plentiful during the summer. As long as there is a face-painter and drinks and snacks, my kids enjoy themselves.  Last summer I happened to walk to a new neighbourhood bank, and they were having a grand opening celebration with the aforementioned face-painter, snacks, drinks, and there was even a band.  We spent a very enjoyable half hour at the bank, and the kids loved their painted faces.  Every year we have a community celebration which has plenty of free events such as parades, a bouncy castle and an afternoon of skating.  Ask around, or join a local parent blog to get the scoop.
Check out your local arenas and pools, as many times they have free skate or swim days as well.
Library
For some reason we have only been recent converts to our local library.  But now that we use it, we couldn't do without it.  It is simply amazing- they have weekly crafts for kids, reading time, and of course free books.  Something else we have started to take advantage of in our local library is the free videos.  They have all the Disney videos, and if there is a popular video, we place it on hold, and they email us when it is available.  It sure beats spending $5 per video rental.  The downside to the library is if you aren't on top of return dates, you can run up some hefty late charges.  Our library charges $1-$2 per day in late fees on videos.
Say NO to events
If all your friends are constantly spending loads of money on activities and events, don't be afraid to say no to some or all of them.  Like I have said previously, our favourite thing to do is a family is hang out, talk and enjoy each other's company, so I have no regret or feelings of guilt when I say no to an activity that my friends or family is partaking in.  As an example, there was a recent touring production of the show Max and Ruby, and a bunch of my friends were planning on taking their children. I waited until close to the date, as I thought I'd be able to get a good deal on ticket prices.  I had no success with reduced ticket prices, so we didn't go.
In today's society it seems like parents want their kids to be occupied 24/7, either watching TV, doing an activity or attending an event.  Your kids want to spend quality time with you, and they need to develop themselves through creative play.  We don't need to spend a ton of cash on this, we can make snowmen, decorate a gingerbread house, bake WITH your children.  That's what they want (and need).  Please share your great ideas about how you entertain your kids below!
(banner image credit: USFWS Pacific Southwest Region)