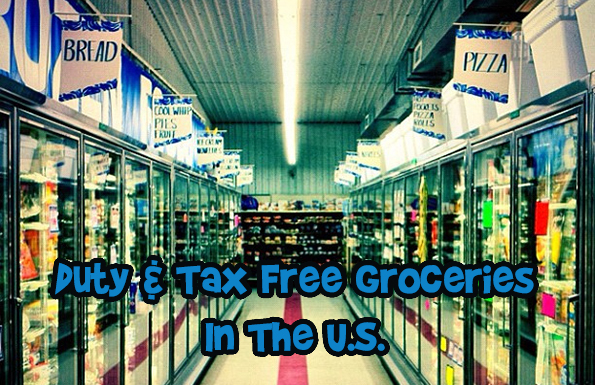 On a recent trip to Trader Joe's, I was really excited to realize that groceries are not subject to taxes, which makes my trip down to the United States with my Nexus card (save time and money when traveling to the United States with it) and back within a few hours completely guilt-free.  Before, I would feel anxious about whether or not I would get charged a high amount of duty and taxes on my groceries and same day purchases.
With a little more searching and researching, I discovered a few amazing things about groceries in the United States and bringing them back to Canada, and I thought that you might want to know about them.
If you already know about these restrictions and allowances, my apologies for duplication of information you already know about.  If you don't know about this (just like I did), I hope this helps you on your next trip down to the states for groceries!
Groceries, Duty and Taxes
In case you didn't know (I was vaguely aware of it but not 100% sure because I thought it was a rumour), basic groceries, for example, food that is edible by humans, are duty and tax free.  However, non-edible groceries like cleaning products, toiletries, paper products, pet foods, and household items are subject to taxes.
Yes, that means that the cheap run to Trader Joe's in the states was well worth it because you don't have to pay taxes or duties to bring that back.  Might explain why Pirate Joe's did so well heading down to Trader Joe's in his large van.
Restricted Groceries
There are some grocery categories that have restrictions, and if you go over these allowances, you will need to get a permit!
Turkey- you can only bring back one turkey.  That's it.
Meat and Poultry- fresh, frozen (maximum of 20 kilos)
Meat and Poultry- processed, like sausages (maximum of 20 kilos)
Fish and seafood - not puffer fish and Chinese mitten crab (maximum of 20 kilos)
Milk products (cheese, butter, yogurt, ice cream)- a maximum of 20 kilos with a maximum allowance of $20 worth
Eggs- 24 eggs
Potatoes- you are allowed one bag of commercially packaged potatoes
Baked goods (maximum of 20 kilos of baked goods- which seems like a lot in my opinion!)
Groceries Not Allowed into Canada
Needless to say, anything with soil is not allowed into Canada (for example, that cute basil plant for $3.99 at Trader Joe's is not allowed back to Canada unfortunately!)
Apples are not allowed (thank goodness someone stopped me at the counter from buying the apples)--> this is a specific restriction for British Columbia
Fruits that have pits/ stones in them (apricots, nectarines, peaches, plums)  --> This is a specific restriction for British Columbia
corn on the cob
If you want more information, check out the Canada Food Inspection Agency website.
Do Not Bring back Alcohol or Tobacco
Of course, do not bring back alcohol or tobacco if you have been gone for less than 48 hours unless you want to get in the bad books with the Canada Border Services Agency.  If you do bring back these items to Canada within a same day trip (a trip less than 24 hours) they are subject to taxes and duties.
If you need a refresher on personal exemptions allowed, check out this mini-guide from the Government of Canada travel site.
There you have it, folks.  Because cheese is so ridiculously cheap and economically priced in the United States and at Trader Joe's, I'll be sure to make regular (perhaps every two months) trips down to the United States to stock up on some cheese and other goodies.
If you want to get more trivia about Trader Joe's, check out this interesting Buzzfeed article on 18 incredible things you didn't know about Trader Joe's! I had no idea that you could ask a sales person to open anything and they will let you try it.  Or that managers at Trader Joe's stores can make over six figures!
Or you could alternately check out this Buzzfeed article on 23 Reasons why Trader Joe's is the Best.
Bargainmoosers, do you buy your groceries in the states? Have you ever been taxed or gotten into trouble with the CBSA?
(banner image credit: Spiro Bolos)