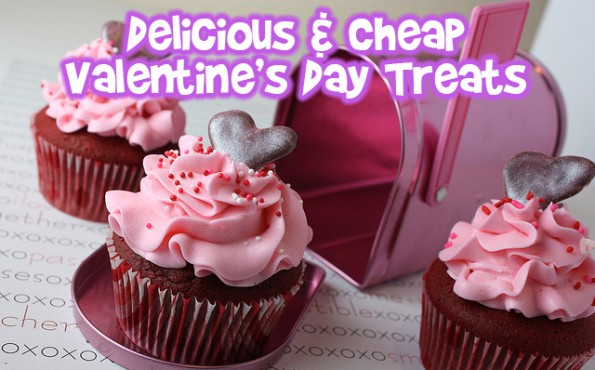 When you think of Valentine's Day, what first comes to mind? A heart-shaped box of chocolates? A Valentine's Day card? An extravagant public display of affection? For me, it's always been pink frosting and anything sweet. I usually try to bake something to bring to the office or to share with friends and family for Valentine's Day, but at the same time I always try to stay within a limited budget to avoid going overboard. Thanks to some very creative and budget-conscious bloggers, I've rounded up five delicious and cheap Valentine's Day treat recipes to share with anyone else who has as a big of a sweet tooth as I do.
Red Velvet Cookies
Is there anything more heart-warming (or delicious) than a batch of homemade red velvet cookies? Costing you a fraction of the price of store bought cookies, this recipe from Mindfully Frugal Mom is sure to be a hit at the office or your friend's Valentine's Day party.

Valentine's Day Smoothie
Healthy and tasty, this smoothie is sure to give that special someone a big smile when they wake up on Valentine's Day. Thanks to Frugal MomEh! for this festive and frugal recipe!

Love-Red Cherry Cheesecake
What better way to say I love you than with a to-die-for cherry cheesecake? To sweeten the deal, this recipe from Budget Savvy Diva only requires six ingredients, so not only is it easy to make, it won't break the bank either.

Rice Crispy Hearts
Simple, yummy, and always a crowd pleaser, Today's Frugal Mom offers a unique spin on the traditional rice crispy square that will cost you less than $5 dollars to make. Now that's a frugal treat I can really sink my teeth into.

Treats in a Jar
For those of you who are short on time, but still want to make something special to hand out to your friends and family on Valentine's Day, this may be the recipe for you. All you need are some Valentine's Day themed candies (think pink M&Ms, Hershey's Kisses, or Red Hots), a few mason jars, and some decorative ribbon or special handwritten messages. The inspiration for this sweet treat comes from The Frugal Girls' blog.

Bargainmoosers, what are your favourite Valentine's Day treats?
(Image credit: Smiley's Sweets; Ken's Oven)