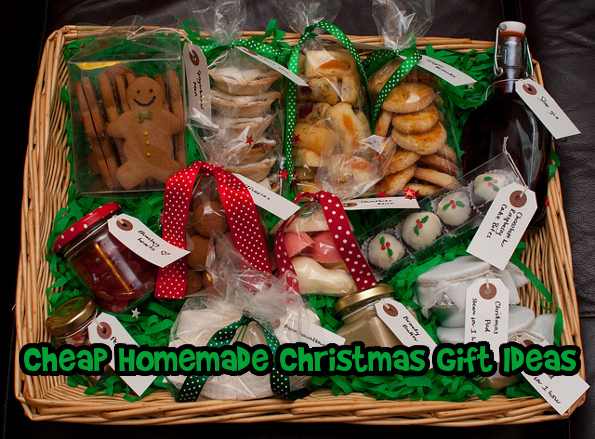 With the economy not in complete recovery mode, many people are feeling the pinch when spending money buying Christmas gifts for one another. Spending $25 or so on a Christmas gift frankly doesn't get you very much and also really adds up in terms of cost. Four presents at $25 a pop already adds up to $100!
Christmas is a time to give from your heart and it is clearly a time when the adage "it's the thought that counts" rings true. Here are some cheap homemade Christmas gift ideas that will surely impress your family and friends and will get them asking for the same Christmas gifts year after year!  Some of these are cheap homemade gifts that I have made myself, and they were very popular with my friends. Some of these were given to me by my friends.  If you're hankering for more ideas, check out Jessica's post here.
Homemade Baileys Irish Cream
This recipe by the Cupcake Project is super easy and tastes exactly like the real thing. I have to admit, even though the recipe says that the homemade Baileys Irish Cream will last up to two months in the refrigerator, it barely lasted two weeks because it was just so delicious. I'm not sure how well the cream will keep in the refrigerator for two months. After this recipe, you will never buy Baileys Irish Cream at the liquor store for $30 ever again!
Basically the recipe asks for:
• 1 C light cream (I used heavy whipping cream, which made it even richer)
• 14 oz sweetened condensed milk
• 1 2/3 C Irish whiskey
• 1 t instant coffee
• 2 T Hershey's chocolate syrup
• 1 t vanilla
• 1 t almond extract
Homemade Bath Bombs
This homemade bath bombs recipe by Living on a Dime is super easy to make. You can add any essential oil you want (I recommend a citrus or lavender type essential oil). You can also find smaller molds and put the finished product in a cute jar found at the dollar store. It is sure to be a hit with your girlfriends because who doesn't want to relax and rejuvenate in a tub one time or another? My friend made this last year for us and it was a huge hit. This is a bit more complicated than say, making body scrub, but the effort will be noted and everyone will be super impressed. You don't need to spend $5 on a bath bomb at Lush or Escents aromatherapy.
The recipe for homemade bath bombs are as follows:
• 1 cup baking soda
• ½ cup citric acid
• ½ cup cornstarch
• 2 Tbsp. plus 1 tsp. oil (almond, sunflower, coconut oil may be used)
• 2 tsp. water
• 1-2 tsp. essential or fragrance oil
• ¼ tsp. borax
Homemade Bath Scrub
Another great idea that is very similar to the bath bomb recipe that doesn't necessitate going out to buy a bath bomb mold is to make homemade body scrub. Prudent Baby has a great and super easy recipe to make homemade bath scrub. Making body scrub is so easy that you barely need a recipe to follow. To make homemade body scrub, all you need is a:
• Sealable jar
• Sugar
• Olive oil
• Essential oil (lavender is nice!)
• Lavender buds to make the jar look pretty!
Homemade Hot Chocolate Mix
Everyone loves practical gifts and you really can't get more practical than an edible gift. This homemade gift is super easy and literally takes 5 minutes to make, so you might want to pair it up with something that takes a little more effort. Of course, you could always make the jar look pretty by writing on it with a silver tipped pen or marker. This recipe comes from SIRIously Delicious a fun food blog . The only things you need are:
• An airtight sealable jar (mason jars are great for this)
• 3 ½ cups sugar
• 2 ¼ cup of cocoa
These ideas are just some ideas of homemade Christmas gifts that you can make quickly and easily. They come from the heart, don't cost very much to make, and encourage you to channel your creativity. This is a win-win situation, especially for the busy hectic Christmas season, if you ask me.  In addition, I can't think of a better way to protest against Christmas consumerism by making your own presents.
Bargainmoosers, do you have other easy homemade Christmas gift ideas that are guaranteed to be a crowd-pleaser?
Photo Credit (poppet)