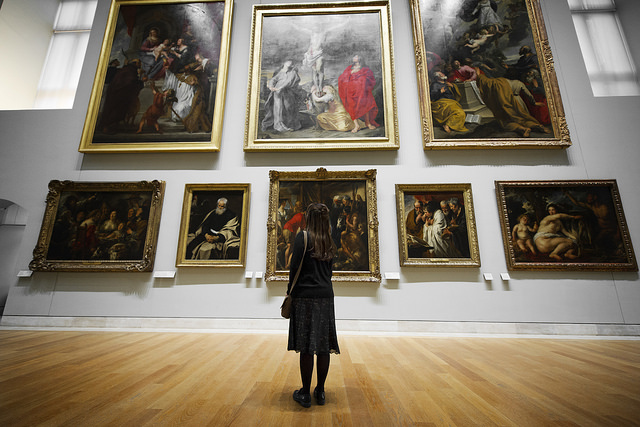 My husband and I love original artwork.  My sister and brother-in-law are avid art collectors, and we really started to appreciate original artwork through them.  They have moved back and forth between Canada and England a few times, and in the process they have asked us to store some of their art between moves, which meant that we had some beautiful original pieces in our house, which we didn't have to buy.   Unfortunately we had to give it back, but it was an eye opener for us in terms of what kind of art we like, and how much we value it.  Don't get me wrong, we aren't educated in the complexities of art, we simply like what we like.  We have been able to build a small original art collection ever since we came to the realization that it makes us happy.  How have we been able to do it on a budget?
Local art shows/artist studio tours
Every year our city holds something called an artist studio tour.  It occurs each spring, we take the kids, and it is an amazing opportunity to actually meet the artists you are considering purchasing a piece of artwork from.  Because the tour is in their actual homes you can see their studio, how they create their works, and where they live.   There are studio tours across the country, in Quebec, London and PEI.  During the tours the artists will usually have a variety of different sized pieces, and they usually have small prints to purchase, which are generally quite affordable.  The art we bought this year was a beautiful piece we saw on the wall which was already framed, which for us is a huge bonus since framing of art can be expensive and sometimes difficult to find a reputable supplier.  Generally if we have framing that needs to be done we will take items to Costco.
New/young artists
Artists who are still in school or have just graduated are usually struggling to start their careers.  It is very difficult to make a living as a working artist especially when you are just starting out.  Because of this, the prices of pieces from new and younger artists are cheaper than purchasing a piece from an established artist.  Usually the art community in your city will be tight knight, so ask around and get recommendations from family and friends.  Check out university or college art shows as well, you never know what great deals you can find.
Consider different genres of art
Art comes in all shapes, sizes, colours and textures.  This year when we went on our local artist studio tour there was an artist who specialises in woodcut pieces of art, and she had some small prints available to purchase.   Another artist on the tour this year did woodwork, and had the most beautiful wood bowls which he hand crafted. One of his unique bowls cost around $100, where most of the paintings we were looking at started at around $300.  Usually there are lots of options for different budgets, but sometimes you have to be open minded to different options.
Check out local auctions
We bought items from our first auction 2 years ago, and we have been hooked ever since.  We love the online auction called MaxSold.  MaxSold customers are generally older people who need to clear out their contents as they are downsizing or moving into a nursing home.  You can get some absolute steals if you have the time to bid on the auction, and if you have the flexibility to be able to pick up the items on your own.  During our first auction experience we scored a huge deal: two original paintings of Paris which came framed cost us only $65!  We weren't sure if the frames would match our décor or not, but they match perfectly, and we love them.  We also love the story that goes along with the pictures. I'm always so proud of my frugal finds.
Etsy/online suppliers
Etsy has a ton of different art options you can purchase online.  It has suppliers in decorative glass, watercolours, photography; the sky is the limit.  If you don't need to see the piece of art you are considering purchasing in person, Etsy could be a great option for you.  Ebay has lots of art you can purchase directly from the artist.  Be sure to check out each seller's approval rating and check to ensure items can be shipped to Canada.
When we first decided to collect art we started off small, purchasing a print from a local artist. We decided that every year we would budget a certain amount towards purchasing a new original piece, and that we would support local artists as much as possible.  It has become a super fun annual family event that our girls participate in, and it is something that we look forward to.  We don't usually have a particular genre or colour scheme we're going for- we become inspired and make a purchase based on how we feel that day.  This is unusual for us, as we generally like to plan our purchases, and do extensive research on what we buy.  My husband and I both have a creative side, and this is one outlet for that creativity.
Bargainmoosers, do you buy original art?  What tips can you share?
Photo credit: Dustin Gaffke