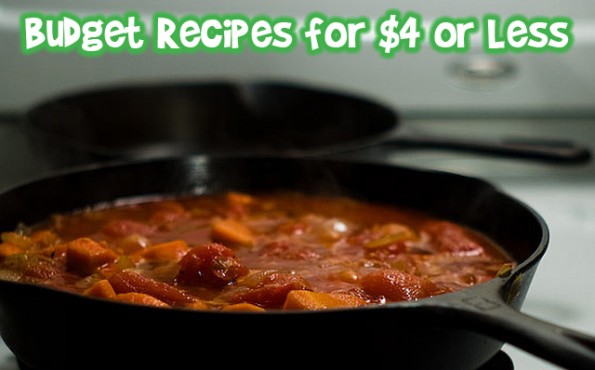 One of my favourite pastimes is learning new recipes, but being the money-conscious person that I am, I always consider my grocery budget before diving into making any new dish. Fortunately, nowadays you don't need to spend a dime to access a catalogue of affordable recipes, and thanks to the efforts of a few frugal food bloggers you can find out just how much a meal will cost you even before you make it. Check out some of these frugal recipes that will only set you back $4 or less to cook! 
Croque Madame
A slight variation on the Croque Monsieur, this tasty French sandwich only costs $3.10 to make, writes Kimberly from Poor Girl Eats Well. Pair it with a side salad and you've basically just transported yourself to a chic café in Paris without the expensive flight.

Creamy Tomato & Spinach Pasta
I just so happened to try this recipe this weekend and it was a major hit! Not only was it super simple to prepare and cook, it did yield the 4 yummy servings promised by Beth at Budget Bytes. At $0.93 per serving, I know I'll be making this dish again very soon.

Meatloaf Muffins with Barbecue Sauce
This is another recipe I've tried and succeeded in making in my own kitchen. I actually found this recipe while looking for cheap meal ideas on Pinterest and then calculated all of the costs myself afterwards. For 5 generous portions it only cost me $4.03 per meal.

Thai Pumpkin Beef Curry
Ever since I visited Thailand and got used to eating curry at least once a day for almost a month, I've been obsessed with trying to make my own Thai dishes at home. I found this delectable recipe on Brokeass Gourmet's blog and assuming you already have some of the condiments in your pantry, it shouldn't cost you more than $3.56 per serving.

Apple Upside Down Cake
Not leaving dessert out of the picture, this scrumptious apple upside down cake isn't just sugary sweet, but easy on the wallet too. At only $2.75 to make the whole cake, I'd say you'd be giving your local bakery a run for it's money with this recipe from Not Eating Out in New York.

Bargainmoosers, what's your go-to budget recipe?
(Image: mjhoy)