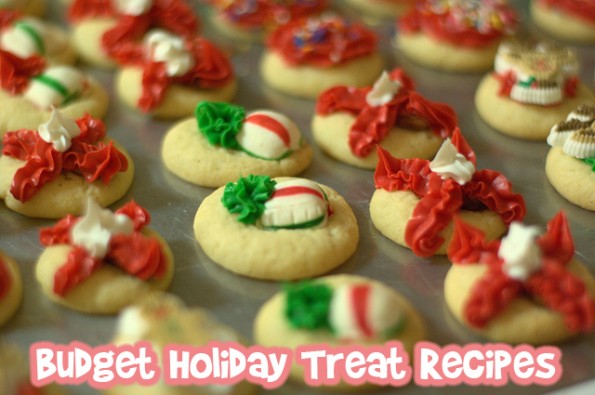 By now, you've probably already put up your Christmas tree, hung all of your decorations, and have at least started your holiday shopping. As important as all of those things are, making sure you have ample treats for everyone to enjoy is just as significant. You could go the easy route and buy some cookies and cakes from the grocery store, but you know that if you want to save a few bucks, homemade treats can't be beat. If you want to avoid serving anything store bought, but are also low on time and funds, I've found a few yummy recipes that are all easy to make and won't break the bank.
Crockpot Candy
I love tossing a bunch of ingredients into my crockpot on a chilly day, only to have a delicious meal ready to serve after just a few hours. But as much as I love my slow cooker, what I didn't realize is that it could cook more than just pot roasts and stews: it can make melt-in-your-mouth candies too! As found on Fake Ginger's blog, using only four simple ingredients (white almond bark, German chocolate, semisweet chocolate chips, and dry roasted peanuts), in only two hours your slower cooker can make some of the most delicious chocolates you've ever tasted!

Nutella Brownies
This is another super easy and cheap to make holiday dessert that is sure to be a crowd pleaser. All you need is 1 cup of Nutella, 2 eggs, and 10 tablespoons of flour. Combine in a bowl, divide into a cupcake tin (and add hazelnuts or sliced almonds on top if you so desire), then bake for 30 minutes at 350F. I found this recipe on Instructables.com, and I can guarantee you I'll be making this recipe throughout the year.

Chocolate Preztel Treats
Talk about salty and sweet holiday treats, this one is a must try recipe, I'm telling you! It may take you a bit of searching to find these round pretzels, but once you've found them, all you need to do is put a Hershey kiss inside, melt the chocolate a teensy bit, put an M&M on top, let cool, and serve! Thanks to House on Hilltop for this great recipe.

Reindeer Cookies and Holly Crackles
If you plan on going across the border before Christmas, make sure to grab a few boxes of Nutter Butters to make these adorably yummy Reindeer Cookies. Not only are they perfectly festive, there is no baking required as mentioned on Frontier Girls' blog. If a trip to the States isn't in your near future, grab some butter, marshmallows, cornflakes, and green food colouring, and make these bite-sized wreaths. You can even use this same Mr. Food recipe in the Spring by switching to pastel colours and adding some jelly beans to make some Easter bird nests!

Bargainmoosers, what kind of holiday treats are you planning on making this season?
(Image credit: carl_mueller)