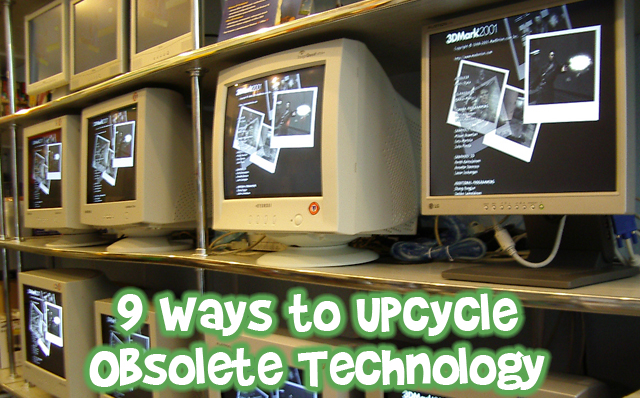 It's hard enough keeping up with new technology, but by the time you finally get your hands on the latest smart phone or tablet, you have to figure out what to do with all of your old gadgets other than throwing them into a box never to be seen again. Even though that stack of CDs or cluster of computers may seem completely worthless to the untrained eye, with a little creativity and a hot glue gun, you can easily turn those defunct devices into retro-inspired, cheap-to-make pieces of home décor and jewellery!

Remember cassette tapes? It wasn't that long ago that popping one of these into your tape deck was the only way you could listen to music in your car, on the go, or at home without tuning into the radio. However, since it is no longer 1992, these pieces of plastic can really serve no other purpose other than to add a touch of hipster cool to your office or living room. Need a lamp for your side table? Then get some wire, a light bulb, and whip up your own lamp box! Maybe you're looking for a unique way to display a floral arrangement, in which case you can follow The Flair Exchange's step-by-step instructions here. If you are more interested finding a way to help keep you organized, you may want to copy Upcycle That's design for a cassette tape pen holder.

Just like it's predecessor, once mp3 players and iPods became the norm, CDs became obsolete too and who doesn't have a stack of them taking up space in a cupboard or box beneath the bed? Luckily you can turn those useless discs into a chandelier of nostalgia, or better yet some conversation-starting coasters. If you have a green thumb, with the aid of a plastic bottle and some spray paint, you can even start your very own miniature garden.

We all probably have one or two out of date personal computers hanging around, but instead of letting them collect dust in the basement, you can turn those keyboard keys into a handy magnetic calendar for your fridge door. If you have a cat who just loves to sit on or around your computer at home, you can convert your old monitor into a unique pet bed for them to enjoy. Last but not least, for all you fashionistas out there, by cracking open your computer's old motherboard you'll be able to get all of the materials you need to make a one of a kind necklace for virtually no money at all.
Bargainmoosers, what creative ideas do you have to upcycle old pieces of technology?
Editor's Note: Please do not attempt to disassemble a CRT monitor (the huge bulky old monitors, or older iMacs) on your own! The capacitors contained within them can hold an electrical charge for a very long time after they are turned off, even if it appears that they don't work.  Tampering with a CRT screen may result in shock.
(Image credit: wcizmowski)