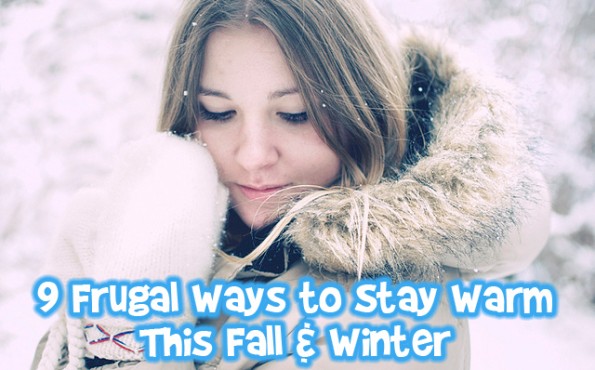 Now that we're in the thick of fall, and winter is just around the corner, it's time to think about staying warm when the temperatures really start to drop, without having to spend hundreds of dollars a month to do so. Stay away from that thermostat and electric fireplace, and choose to save your money by trying out some of these frugal ways to stay warm this fall and winter.
1. Make sure your windows and doors are properly insulated
A cold draught coming in from your windows and doors is not ideal when the temperatures outside are below freezing and you want to save money on your heating bill. To ensure cold air isn't leaking into your home, Manitoba Hydro suggests that you check if your windows are easy to close or open, if there is any warpage or rot surrounding your doors or windows, and if you can feel a noticeable amount of cold air coming through. If there is air coming in you should caulk all gaps between the trim and wall or window frame, replace ineffective sash locks, or replace your doors and windows altogether with properly insulated ones.
2. Seal off your fireplace
Your fireplace flue is a sure way to let unwanted cold air in if left open during the cold seasonal months. To prevent this from happening, you may need to spend a bit of money at the hardware store to buy a chimney pillow or balloon to seal off the opening. In the end you'll be glad you spent that little extra money, but just remember to remove the balloon before you start any fires.
3. Open your curtains or blinds when it's sunny
An easy and free way to heat your home is to open your window dressings when it's sunny outside to let the warmth in, and then close them when the sun goes down to prevent the heat from escaping.
4. Use blankets instead of cranking up the heat
Who doesn't love to curl up in a good blanket and get cozy during the cold fall and winter months? Not only are they super comfortable, they are a great alternative to cranking up the thermostat. If you really want to save money you can whip out your knitting needles and make your own blankets instead of buying them at the store.
5. Bake and cook to your heart's content
Baking and cooking with your oven in the summertime is usually something you avoid for fear of overheating your home, but when it starts to get cold outside it's the perfect excuse to bake some chocolate chip cookies or your famous chicken pot pie!
6. Leave your bathroom door open after you shower
When you've finished taking your shower, make sure to leave your bathroom door open to let the steam out so the warm air can fill your house or apartment.
7. Drink hot fluids
There's nothing like a cup of tea or hot chocolate to warm you up when it's particularly cold outside. Make sure you stock up on plenty of tea bags, hot coacoa, and coffee before it gets so snowy outside you won't want to leave your house.
8. Stay active
What better way to produce some body heat than to stay fit and exercise! Whether you want to jog around your neighbourhood or exercise to a workout tape in your living room, exercising is a great way to keep warm and lead a healthy lifestyle.
9. Invest in a good-quality warm jacket
Last but not least, when you must leave your home to face the bitter cold, it is essential to have a proper jacket to maintain your body heat. Depending on where you live, it may just mean wearing a wool pea coat out. However, if you live in an especially cold area you need to make sure you have a jacket filled with down or a synthetic alternative. Usually these jackets note what below freezing temperature they can keep you warm at on their tags, so make sure you choose the right jacket otherwise you might find yourself as frozen as an ice sculpture while waiting for the bus.
Bargainmoosers, what frugal ways do you use to stay warm during fall and winter?
(Image credit: Lisa Widerberg)