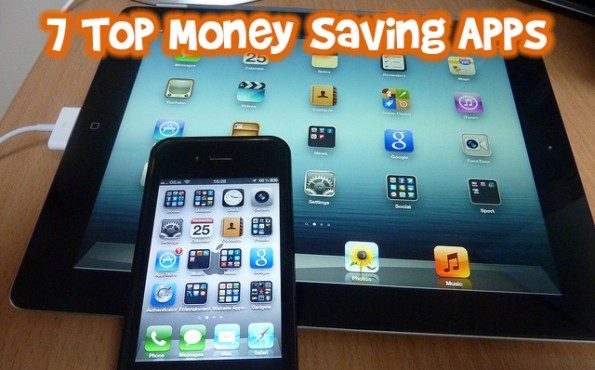 Want to be better at managing your money on the go? Guess what, there's an app for that! Actually, there are several apps for that, most of which are completely free. In case any of you are on the hunt for the best money saving apps to add to your mobile or tablet, here's a list of my top 7 picks for apps that will help you pay off debt, find the best deals, and keep your finances organized all by the click of a button.
DebtMinder ($1.99)
If you are in debt and striving towards financial freedom, you may want to spend the $1.99 for the DebtMinder app to help you on your journey. It will create a personalized payoff plan for you and keep you on track with regular progress reports. This app is available on iPhone and iPad.
Shoeboxed (Free!)
Sometimes the only way to find out where all your money went is by keeping your receipts. But how often do you forget to put them in your wallet, or worse, accidentally throw them in the trash? With the Shoeboxed app, you just snap a photo of your receipt and let the app compile the data for you. Later on you can generate expense reports and export them to Excel, Quickbooks, or other money management software. This app is available on iPhone, iPad, and Android.
Mint (Free!)
If you already have a Mint account, then the Mint app on your mobile or tablet will make your life just that much easier. It's great a way to make sure your bills are paid on time and to check if you've got enough money in your bank accounts no matter where you are. The best part is it's available on almost any type of device.
Tip-n-Split ($0.99)
Don't you hate having to calculate the amount to tip or split a bill at the end of a meal? The Tip-n-Split app should be your best friend then because it eliminates all the hassle and does all the work for you. This app is available on iPhone and Android.
GasBuddy (Free!)
Even though gas prices are seemingly always on the rise, with the GasBuddy app you can make sure you always know what gas stations are charging the least amount for a fill up. This app is available on iPhone, Andriod, Windows Phone, and Blackberry.
RedLaser (Free!)
RedLaser is the ultimate shopping app. It helps you find the best deal by comparison shopping for you, it keeps all of your loyalty cards in one place, and it helps you locate local retailers to help you find what you're looking for in just seconds. This app is available on iPhone, Android, and Windows Phone.
And of course, Bargainmoose (Free!)
The Bargainmoose app is available on iOS and Android. It's just an app version of the site with some basic features, but could be handy when you're on the move and you want to keep abreast of the latest hot Canadian deals! If you don't have it, download it now. :)
Bargainmoosers, what are your favourite money saving apps?
(Image: Sean MacEntee)