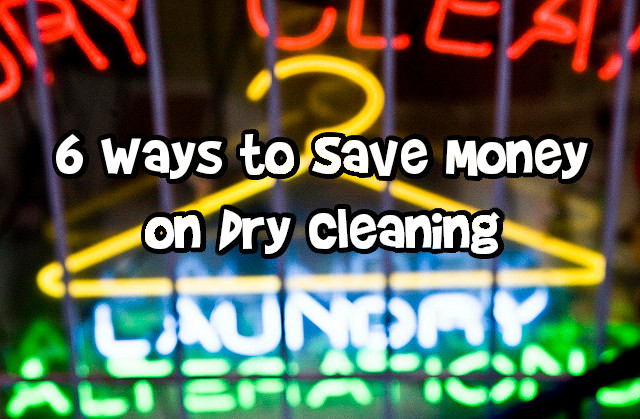 Dry cleaning is expensive but there are ways to save money on dry cleaning without "being taken to the cleaners" (pun intended).  The main way to save money is to have awareness of what needs to be taken to the dry cleaner and what doesn't.  There are also ways to extend the life of your clothing between dry cleaning cycles.
Here are six different ways to save money on your next dry cleaning bill.
Read the Label and Take it With a Grain of Salt
By taking with a grain of salt, I mean don't read the label and follow the instructions to a tee.  According to Good Housekeeping, if a label says "dry clean only" then it means that you really should dry clean that item only.  If a label says "dry clean" it means that you don't need to dry clean but it would be preferable, but it is not a necessity.  If it says "dry clean" you could either wash it by hand or wash it in cold water on the delicate cycle and then tumble dry low in the dryer.  I have a cashmere sweater that said "dry clean" on the care label (I bought the sweater at Old Navy years ago for under $30) that I routinely wash in the washer and dryer and it has held up well.
Spray Water to Remove Watermarks
According to Frugality Magazine, the two most dangerous fabrics you should be wary of when you purchase are silk and linen.  Oftentimes even if you take these to the dry cleaner, the stain will still appear as it did before you spent the money taking it to the dry cleaner.  If you do buy silk and you end up getting watermark stains on your silk clothing (be it from rain, sweat or whatnot), dry cleaning won't necessarily remove them and washing them in the machine will likely ruin them.  Instead, Frugality Magazine suggests that you hang it up, spray it with a houseplant mister (full of water) and let it be.  Usually the water mark disappears or it improves greatly.  For other ways to remove watermark stains on silk, check out this Wikihow article.
Curtain Call
Instead of taking your curtains to the dry cleaner to remove dust and pet hair, Good Housekeeping also suggests that you can put the curtains into your dryer for 10 minutes under the air only option and then remove and hang up again.  Although I don't have curtains in my home, this is a great idea to save money on dry cleaning your curtains when you do that spring cleaning.
Prevention is Key
Readers Digest dispenses sage advice by recommending that the earlier you treat a stain before it has time to set, the better.  Be vigilant about stains on your clothes during meal times and try your best not remove it as soon as possible.  Also, never iron your stained cottoning or it will cause the stain to set and be likely difficult or impossible to remove.  Keep a Tide to Go pen always handy and make the effort to remove the stain before it has time to set in.
Home Dry Cleaning Kits
About.com suggests that home dry cleaning kits are a great alternative to dry cleaning and can make your clothes last longer between dry cleaning trips.  I have a friend who swears by the dry cleaning kit Dryel that she bought at London Drugs.  The Dryel starter kit is $9.99.  I personally have not tried using this yet.
Know What Fabrics are High Maintenance
According to Popsugar, there are certain fabrics that can do relatively well being washed by hand.  These fabrics are cashmere, wool, silk, cotton, and satin.  Contrarily, there are certain fabrics that usually have to be taken into the dry cleaners to be cleaned and these are suede, velvet, and leather.
Hopefully these six tips save you money on your next trip the dry cleaners (or will save you money from having to go to the dry cleaners, period!).
Bargainmoosers, do have other ways that you save money on the dry cleaners?  How often do go to the dry cleaners?  Have you tried Dryel before?
Photo credit: Thomas Hawk