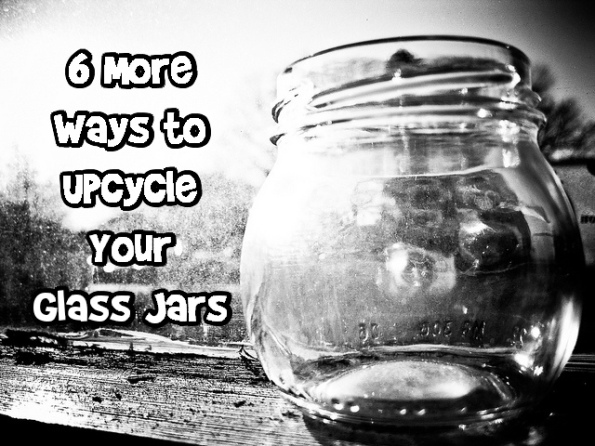 As summer wraps up, it might be a good idea to find creative ways to spend time with your family (e.g., crafting) or have something to do or a project to work on while you are spending more time indoors.  Here are some easy crafty projects you can do with some glass jars you might have lying around the home.  In fact, creating your own home decor will help you save money on pricey home decor, and certainly impress your friends when they come over because you can say you made it yourself!
I'm a big fan of glass jars, especially those mason jars.  They just look so rustic and classy.  It seems that mason jars are the epitome of 2014/2015 hipster cool.  If you recall last year, Bargainmoose had an awesome post on five ways to upcycle your old glass jars, which included suggestions of turning your glass jars into glass bottle lanterns, spice racks, candles, vases, and snow globes.
This year, in case you are interested in more glass jar upcycle inspiration, here are six more ways to upcycle your glass jars:
Trio of Vases from Mason Jars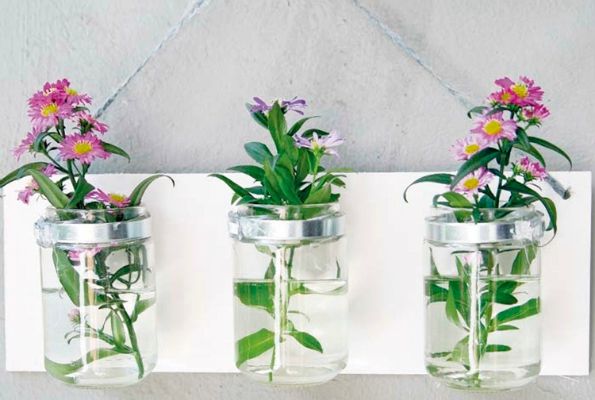 This gorgeous Do It Yourself instruction comes from the blog Da Wanda (it is kind of like a Etsy for Europe, I believe...they even sell wedding dresses), and it involves chip board and hose clamps (the clamps that fix the hose to the washing machine).   I like that the 'recipe' for this DIY asks for something edgy and unusual, like hose clamps!  This vase board is certainly very eye appealing and a welcome addition to any wall  as beautiful floral decoration.
Baby Food Jar Vase
For an alternative look if you have lots of small flowers you want to put in a vase separately, here are some instructions from Upcycle That for a baby food jar vase.  As they say on the blog, it definitely has a rustic chic look to it.  Like the previous Do It Yourself Trio of Vases from mason jars, it also involves clamps and repurposed wood.
Beautiful Sea Glass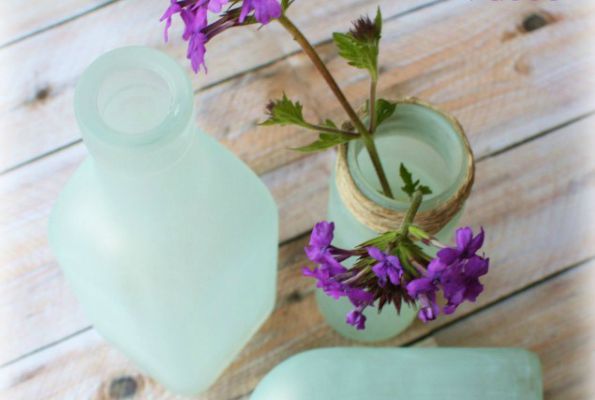 Turn your ordinary glass into beautiful seaglass!  Seaglass has a weathered, aged, cloudy look to it that is so beautiful.   I'm a huge fan of how sea glass looks, but sometimes the price tag can be a bit unattractive, especially if you are in a high end furniture store.  To make beautiful sea glass yourself, follow these instructions.  It seems very very easy but I can't say for sure because I personally haven't tried making this.  This project is courtesy of Sand and Sisal blog and it involves Martha Stewart.  Not Martha Stewart herself but Martha Stewart's frost translucent glass paint and some rubbing alcohol.  Unfortunately the Martha Stewart glass paint isn't dirt cheap, but it certainly does the trick, it seems.
DIY Recycled Glass Chandelier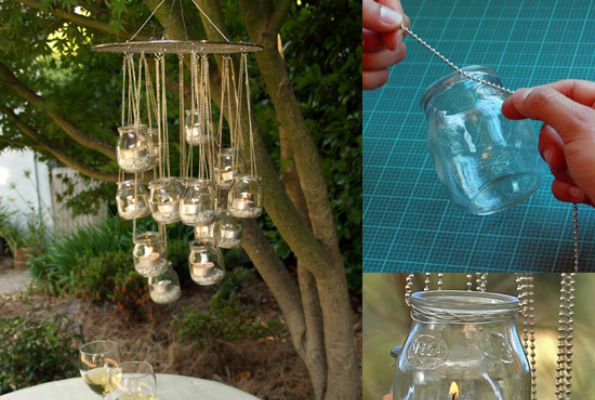 I love Pop Sugar for creative ideas and and I love them even more for this amazing glass chandelier made out of...none other than baby food jars!  For this you will need a circular gridded cooling rack, beading chain and locking links, pebbles, tea lights, and some S hooks, and of course some glass jars (e.g., baby food jars).
Mason Jar Pen Holder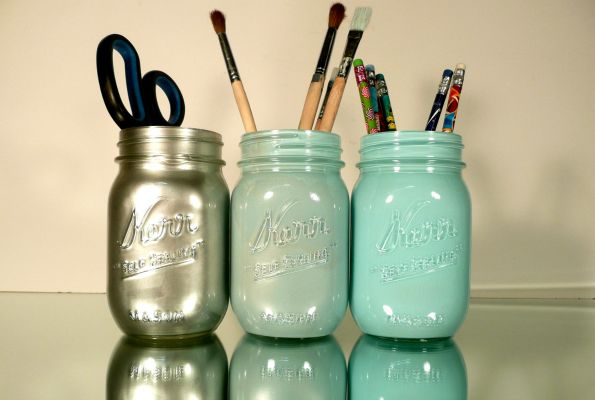 Pen holder, paint brush holder, utensil holder, whatever-holder....I'm not sure if it's because I am impartial to the colour (I just love that aqua blue, it's such a soothing colour for me) but this mason jar pen holder definitely is pretty to brighten up your possibly drab desk.  All you need is a mason jar and spray paint in the colour of your choice.  Spray paint can easily be found at a Michael's and it will set you back for under $10 (less if you use their great 40% or 50% off coupons that they frequently have).  Another great idea from none other than Pop Sugar.
Hopefully these ideas inspire you to prolong the life of the glass lying around to repurpose it into something more beautiful.  Of course, you can always opt to recycle it, but up cycling it is so much more fun, creative, and therapeutic, isn't it?
Bargainmoosers, do you have other glass upcycle ideas that you are a big fan of and what to share?
Photo credit: Steve Johnson