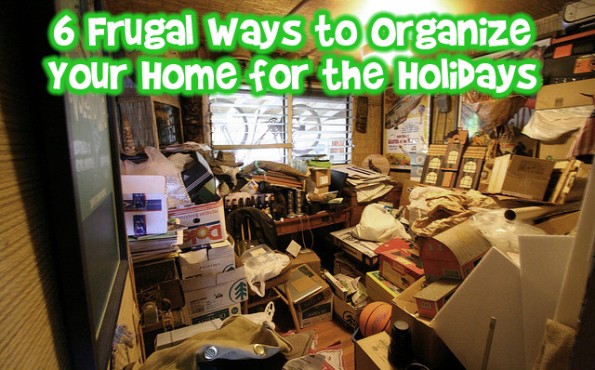 Now that Halloween is over, the holiday season is in full swing! That means family gatherings, staff parties, and Christmas, Hanukkah, and other celebrations are just around the corner. Although this can be a very hectic time of year, the best way to not get overwhelmed is by keeping organized, especially when it comes to your home. Instead of shelling out money for some expensive home organization system, think frugal and make your own for free (or almost free)! By reusing and repurposing your old containers, cardboard, and other things you have laying around your house, you'll be ready for the holidays in no time.
Repurpose your old containers
I swear by containers to keep my life organized, but I hate spending money for plastic tubs or bottles that I know I can get for free. Stephanie over at Stockpiling Moms has a great solution for this as she explains how you can reuse your old creamer containers to store snacks and crafts for no money at all. She also suggests using vinegar to give the bottles a thorough cleaning before using. Thanks for tip Stephanie!

Turn your door into a hanging shelf
Who knew those hanging shoe organizers could be so versatile? Instead of cramming all of your to-go mugs and cleaning supplies underneath the sink or in a cupboard, why not use up some unused space by hanging them over your pantry or kitchen door? Thanks to My House My Home and Love This Pic for these great ideas!

Make your own penholder
You know how much a penholder costs from an office supplies store? About $5. That may not seem like a lot of money, but when you can make it for free as shown on homedit by repurposing some toilet paper rolls and an old shoe box, that's $5 too much if you ask me! To add a bit of flare to your homemade penholder, consider covering the box in some gift wrap or wallpaper.

Use magnets to organize your make-up and bobby pins
I always find that I never have enough space in my bedroom or bathroom for all of my make-up, so when I stumbled upon Laura Thoughts' make-up magnet board it looked like the perfect solution. All you need is some metal to put into an old picture frame and some magnets to glue onto all your make-up cases. Just think how convenient it would be not to have to dig in your drawer for your blush or mascara when you've only got 15 minutes to get ready before you need to rush out the door?

If you like that idea, then you'll love this simple way to keep all of your bobby pins in one place. Superwoman shows on her blog how with a little help from a magnetic strip you'll never have to lose another bobby pin again.

Create your own gift wrapping station
Last but not least, what better way to prepare for the holidays than to get your gift wrap and ribbons organized! I love how Spunky Junky utilizes a cheap plastic basket and a wooden rod to keep all of her ribbons in line, and The Family Handyman's use of a wire closet shelf to store wrapping paper rolls is so simple it's genius! Now all you'll have to worry about is facing the crowds at the mall to get a head start on your holiday shopping. Good luck!

Bargainmoosers, how do you get your home organized for the holidays?
(Image credit: puuikibeach)