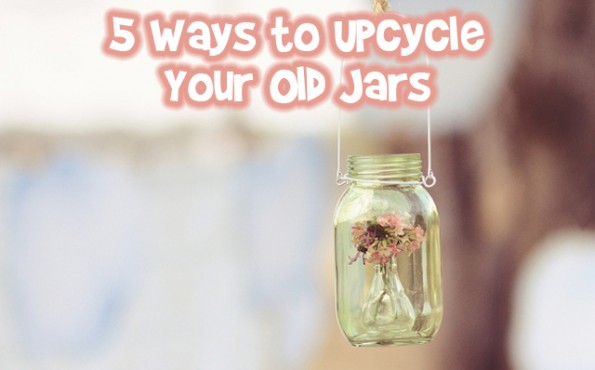 Spring is the time of year when you start getting rid of junk and clutter from your house, but what should you do with all that junk and clutter when you're ready to clear it out? Instead of just tossing it into the garbage bin, consider upcycling some of it into unique décor pieces for your home. Have a box of glass jars taking up space in your attic or garage? You may want to use one of these ideas to turn your old spaghetti jars into focal points for your kitchen or living room.
Baby food jar spice rack
A great solution to all of those baby food jars piling up in your house, by following Lauren Davison's instructions you can make your very own magnetic spice rack! Considering these usually cost $2 per magnetic spice jar at the store, this is a great way to upcycle your empty jars and save you money.

Mason jar lantern
Perfect to set the mood at a wedding or romantic dinner in with your loved one, these mason jar lanterns are easy to make as long as you have some time and a few empty jars on hand. Thanks to Heart Love Weddings' for this great idea!

Candle in a jar
Instead of shelling out $15 for a vintage style candle from Etsy, you can DIY your own (and even sell them yourself too!) with the help of Candy and Clothes' candle in a jar recipe.

Stained glass jar vase
A beautiful window treatment or table centrepiece, these stained glass jar vases are a great way to add a pop of colour and a hint of elegance for the low price of just a few dollars. Eclectically Vintage's blog shows you how to hang them with wire around your window, and Six Sisters' Stuff will show you how to stain them whatever colour you wish.

Mason jar snow globe
It doesn't have to be Christmastime to turn your old jars into snow globes. Swap fake snow for glitter and replace the miniature Christmas trees with tiny houses or landmarks from your hometown. Thanks to Miss Fancy Pants for the inspiration!

Bargainmoosers, how else can you upcycle your old jars? Leave your suggestions in the comments!
(Image: Wesley Eller)