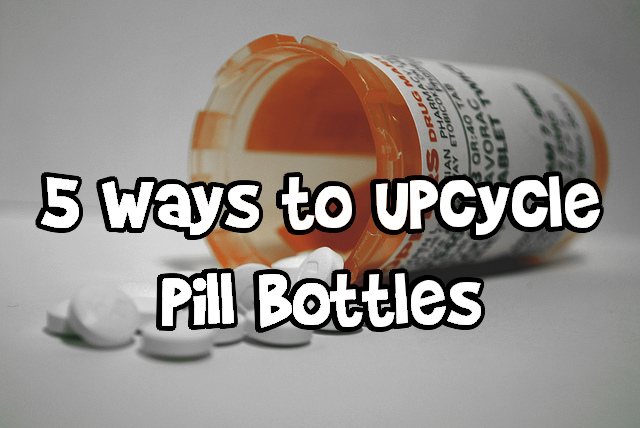 After the antibiotics are all taken from the pill bottle for your child's ear infection, what's there left to do with the empty prescription pill bottle?  Of course you can recycle the pill bottle (though if there are any pills remaining- which there shouldn't be- then you should return them to your pharmacist so that they can be safely disposed of).  Another option with the pill bottle instead of recycling it is to repurpose it!
Of course, there is one thing to ensure that you do before your recycle or repurpose your prescription pill bottles.  You should make sure that you remove any personal or identifying information on it and clean it thoroughly before you upcycle or repurpose your prescription pill bottle.
Here are five ways to upcycle or repurpose that pill bottle that you don't know what to do with, other than to put it in the recycling bin:
Toothfairy's Tooth Saver
This is a perfect way to upcycle the pill bottle for your child who is first starting to lose their teeth (meant for children four and up).  This cute craft idea comes from the ever-crafty About Home.  Your children can store their tooth safely in the tooth saver bottle if their tooth falls out at school, or they can store it nicely under the pillow for the tooth fairy when she comes to visit.  Not only is this a great idea to plan for the tooth fairy, this is a great craft that you and your child can work on together too!
Make Up Brush/ Make Up Holder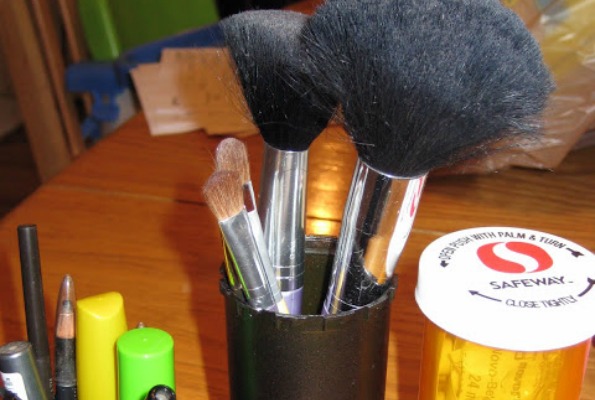 This idea is so neat because it looks great and is so simple to make.  The idea comes from the Laura Thoughts blog and she shows you step by step instructions on how to make your own make up brush holder with an empty pill bottle.  In addition, she was also able to craft up a magnetic make up board for eye shadow palettes so that they are easy to access.  The black empty pill bottle looks sleek and chic- it will house your  make up brushes really well.
Mini First Aid Kit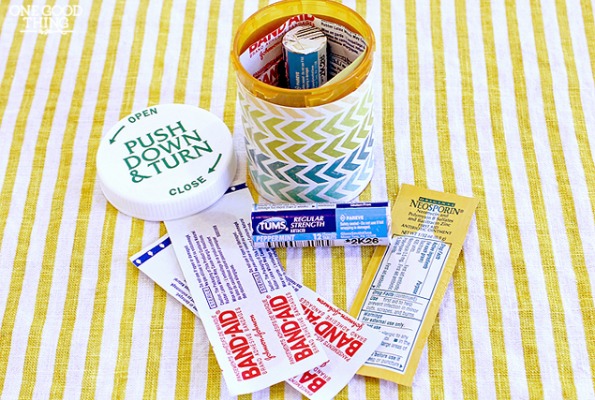 This comes from the blog One Good Thing by Jillee.  The mini first aid kit can be kept in your purse or in your glove compartment.  Stock it with some band-aids, alcohol swabs, Q-tips, even some Tylenol or Tums.  Decorate it with washi tape to make it look nicer and make it look less plain orange.  For a more thorough and well stocked Mini First Aid Kit, check out the the step-by-step guide by the Instructables Blog.  Their version of the  mini first aid kit is formal and well thought-out!
Purse Trash Can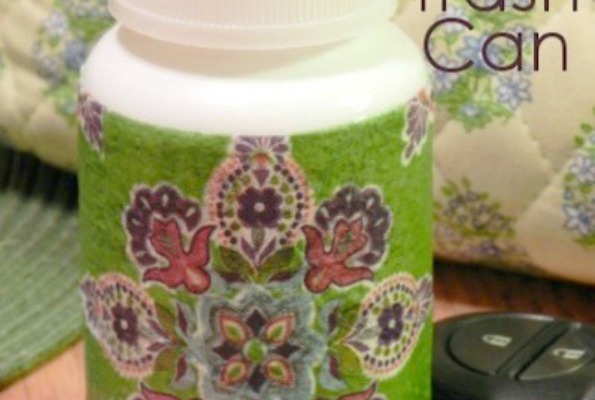 I think this is a great idea but of course it would probably work better with a larger pill bottle (e.g. the ones that store Tylenol extra strength) rather than a prescription pill bottle.  Receipts, candy or gum wrappers, and anything that would normally collect at the bottom of  your bag will make great candidates to be put inside this purse trash can.  This great idea on upcycling your pill bottle comes from Modge Podge Rocks.
Mini Ice Packs
Finally, according to Huffington Post, empty prescription pill bottles make excellent ice packs (who knew?). These will be perfect for last minute picnics or lunch packs that can't fit a regular sized ice pack.  All you have to do is to fill the prescription bottles with water and freeze them.  Of course it's a good idea to keep the cap on, but the mini ice packs are a perfect solution to an ice pack, if you don't have a regular sized ice pack to put into the bag.
There you have it, here are five great repurposed ideas for your pill container.  As you can see, repurposing your prescription pill bottle is extremely easy to do and it doesn't require too many skills in order to complete the pill bottle craft.  Hopefully you won't need to make more prescription pills for the rest of the year because that will mean you and your family are in good health!
Bargainmoosers, do you routinely recycle or upcycle your prescription pill bottles?  If not, what do you usually do with them?
Photo credit: The Javorac