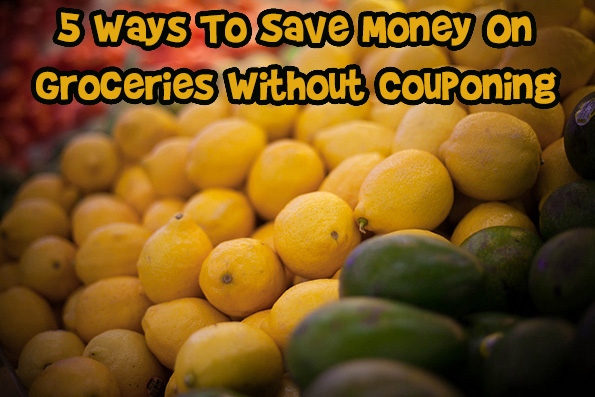 After watching a show or two of Extreme Couponing a few years ago, I was instantly enthralled with the idea of paying so little (or next to nothing) for groceries.  For about a year, I diligently collected coupons and browsed the flyers regularly to see if my coupons would match up and if I would be able to score a deal.  I did feel a sense of satisfaction and excitement every time I went through the register with my coupon, and I was very satisfied whenever I was able to save a considerable amount of money with my coupon.
However, I must admit, couponing was time consuming. Although it was a fun hobby, I had other things that I needed to do and continually having coupons expire on me was kind of a let down for me.  Although couponing can give you the excitement that you are saving money, it takes up a lot of time, and grocery items that there are coupons for tend not to be the healthiest.
For example, Ol Del Paso Taco kits or Lunchables are things that are processed, not very fresh and have multiple unpronounceable ingredients.
Here are five fresh ways in which you can save money on groceries without having to bust out the coupons:
Avoid the Centre Aisles... Like the Plague
I find that when I avoid the snack food and the junk food, my grocery bill is very very reasonable.  The minute I add a bag or two of Kettle Chips, my bill increases dramatically in cost.  The centre aisles of grocery stores are where all the snack food, junk food, and processed foods are kept.  Shop the perimeter for dairy, fresh fruits and vegetables, meats, and grains.  These should be your staples, not Lays potato chips or Oreo cookies.
Avoiding the centre aisle is good for your budget, your health, and also your waistline.
Freeze Your Fresh Fruits, Vegetables and Meals
Fresh fruits such as strawberries, blueberries, mangoes and vegetables such as broccoli, corn, peas and the like freeze really well.  Buy them in season and then freeze them to use throughout the year.  Batch cooking through meal planning is another helpful and economical way to save money on groceries without having to buy groceries.  Cooking larger portions of food and freezing them saves me time and money and more importantly, effort.  Many days after work or before bed I am too tired to prepare lunch the next day or sometimes even prepare dinner.  Although the initial investment of buying a chest freezer is high, it does pay off when you portion your meat into smaller zip lock bags and use them as needed, without having to go to the store each time to buy meat that is not on sale.
Bulk Up or Stock Up on Staple Items 
Kiplinger suggests that you buy in bulk on things that are staples that will last a long time, and will also increase with inflation.  For example, toilet paper, tissue paper, paper towels, rice, and laundry detergent last a long time and it doesn't make sense to buy these items when they are not on sale.  To me, it would make sense to use coupons for these items because they tend to be on sale often and when paired up with a coupon, significant savings do often arise.
Make a List and Check it Twice
...Which ties into the next way to save money without coupons.  Making sure you have a list and you check it twice.  The list applies to going to the grocery store and sticking to what you are planning to buy.  The list also applies to organizing your week with meal planning so that you know what you need to stick to when you visit the grocery store.  This not only helps you prevent food waste, but it also helps you from not spending unnecessary amounts of money on foods that you will not use.
Finally, the most helpful list would be a list of the inventory of your pantry staples.  Sometimes when I can't find an item such as table salt, I run out, then I buy it, only to find the original item in the first place.  Keeping inventory of what you have and when you might need more is very helpful and will prevent you from buying something you don't need.
Use Up the Food That You Have
I can't say enough how important this is.  There have been so many times where I felt I had no food in my pantry or in my fridge, have the urge to go grocery shopping, and realize later that I should have used the smoked oysters or the pasta I had already.  Doing this regularly prevents food waste and saves you money on your grocery bill.
Bargainmoosers, do you have other ways you save money without couponing?
(banner image credit: Sodanie Chea)