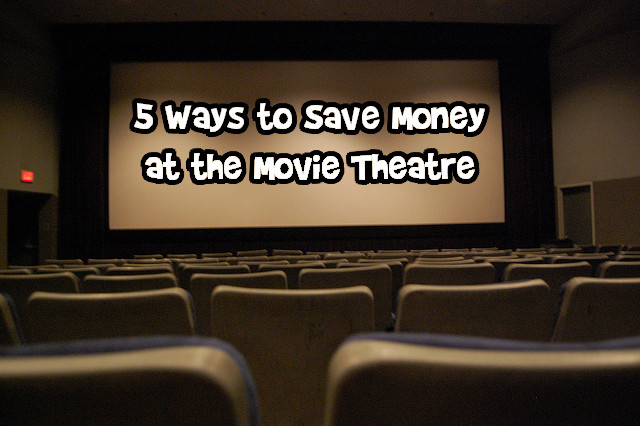 Nowadays, watching a movie is getting pricier and pricier.  What used to be under $10 admission to enjoy a cinema flick has now become $14.95 per person and that does not even include the high mark-up for popcorn, fountain drinks, and the Nibs candy treats that you would normally get when you treat your family to a movie.  Taking your family of four out to a movie can cost upwards of $100 that easily consumes the entertainment budget for a lot of families.
Here are some ways you can save money on your next trip to the movie theatre.
Avoid the Popcorn, Drinks, Snacks and other Overpriced Foods
Popsugar recommends that you avoid this temptation to buy popcorn, drinks, snacks, and other overpriced foods by eating beforehand.  By not going in hungry, you will find the allure of buttery popcorn and sweet soda drinks less attractive which is better for your wallet and also better for your waistline.
According to Yahoo research, the mark-up for soda is 500% and the mark-up for popcorn is over 800% when you look at what it costs to produce the product and what they are charging you to consume the product.  Astounding, isn't it?
Sign Up for a Rewards Card
Scene is a movie rewards program powered by Scotiabank for Cineplex theatres.  You get 100 Scene rewards points for every movie you watch and when you get 1000 Scene points you get to watch a free movie.  You also get more Scene points by signing up for their debit card and even the Scotiabank Visa.  Personally, I'm not a big movie fan (I only watch a few movies in the theatre a year) so this wouldn't suit me, but if you're a big movie buff this might be worth it.
Buy Discounted Movie Tickets
Over the years I had some friends periodically email me to see if I wanted to buy bulk movie tickets in packages of 10 for under $9.  These are usually group discounts.  If you are a CAA member, you can get discounted movie tickets for $9 as well (which certainly beats paying full price!)- go to this CAA Alberta website for an example.  These are still eligible for Scene points so you can still collect your 100 points towards getting your free movie after 1000 Scene rewards points.  Because it is such a good deal, they often have to limit the number of people buying the group tickets so it's a good idea to get them while they are hot.
Head to Costco to Buy Movie Packages
Costco.ca has some great movie packages that are a better deal than buying at the movie theatre.  These are also available to print at home so you get the deal right away instead of having to wait for a gift card in the mail.  They have packages for children and packages including food as well.
Go On Cheap Tuesday
I used to head to the movies only during matinees (as financially geared website Kiplinger suggests) and on cheap Tuesday.  I was sad to see cheap Tuesday go but recently discovered that it is back on last time I went to the movies.  Sometimes the cheap Tuesday price (at Cineplex anyway) is about the same or cheaper than the discounted pre-paid ticket price, so it's definitely more worth it to go.  You will likely beat the crowds on the weekends and it makes for a more relaxing movie-going experience anyway.
Use Your Points
If you have another points program, like Air Miles, you can redeem your points for a free gift card or package to the theatres.  However, some people like to save their hard earned Air Miles for something different instead of a night out at the movies.
Finally, if a night out watching movies at the theatre with these money saving ways is still a little too expensive on the entertainment budget, why not rent a movie at home instead?  Movies are coming out to video more quickly these days after hitting the theatres, so it may be a good idea to skip the theatres and wait for it to come out on the smaller screen.
Bargainmoosers, do you have any favourite ways to save money at the movie theatres?
Photo credit: Saire Elizabeth