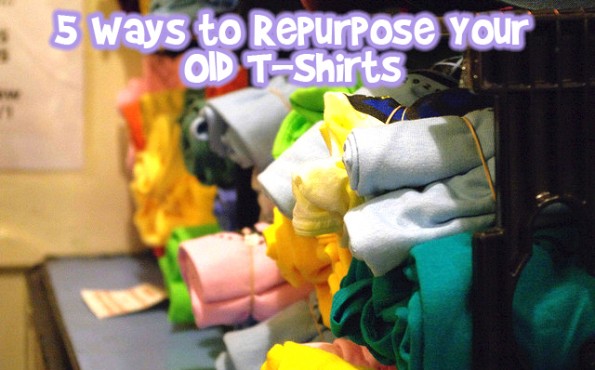 When it comes to t-shirts, I confess that I am a hoarder. I don't know why I have such a hard time letting them go of them, but before I was forced to part ways with most of my belongings to move across the country, I still had t-shirts from middle school tucked away in my dresser. Since I was in such a time crunch to get rid of anything that wouldn't fit in my tiny hatchback, I chose to donate all of my old t-shirts to charity. Had I known that I could've turned them into some of these chic and cheap creations, I think I would have ditched a few more pairs of shoes to make room.
T-shirt Scarf
Since fall is upon us, there's no better time to start cutting up your old T-shirts in the name of fashion than right now. Nicolette from How Does She outlines how to effortlessly create these stylish scarves, and the best part about them is they won't cost you a cent to make! All you need is a few t-shirts and a pair of fabric sheers then you're ready to go!

T-shirt Apron
I've been wanting to go out and buy myself an apron for ages because I'm always getting some stain or another on me while I'm cooking or baking. Thanks to Kristin at Lu Bird Baby, I can save my money and make my own at home. This is great idea to make for little kids too.

T-shirt Headbands
Kitty from A Law Student's Journey has certainly come up with a great use for your old T-shirts while adding a bit of flair to your outfit. It does require a bit of sewing, but Kitty goes through all the steps to make it easy for anyone to copy her designs.

T-shirt Rug
That rug sure doesn't look like it's from IKEA! This unique rug is a sure way to get people asking "Where did you get that?" and thanks to Molly Kay Stoltz you can tell them "I made it myself." This project may take you a bit of time (and patience) to complete, but it's a great way to repurpose that box of t-shirts in your garage.

T-shirt Bag
This is by far my favourite craft idea because it doesn't look like it was made from a t-shirt at all. Leanne from Chi Chi Dee Handmade is responsible for this beautiful design, and I'd much rather follow her instructions and make this bag myself than pay upwards of $50 for a replica on Etsy.

Bargainmoosers, how do your repurpose your old T-shirts?
(Image: aliwest44)