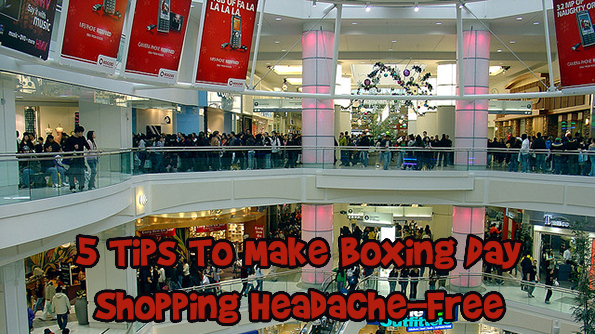 Although Boxing Day can be a great opportunity to score some deals on things that you have been waiting for to go on sale, Boxing Day can be a dual-edged sword where you may inadvertently be spending money on something that you didn't intend to, leaving you with post-Boxing Day remorse. Boxing Day remorse comes from buying something that you cannot return to get your money back on, something that you bought impulsively because you didn't want to wait any longer in line, or something that you thought you needed but you actually didn't really need.
The last thing you need is an even larger credit card bill that you don't feel good about in the first place, more reason to have the January post-holiday blues.
Personally, I avoid Boxing Day shopping if I can, although last year I went Boxing Day shopping and it was worthwhile, as I got a cute dress from Anthropologie for only $35.
Here are five tips on how to make Boxing Day shopping as stress-free as possible:
Make a List and Check it Twice
Making a list isn't just for the holidays and for Christmas presents.  It can be very helpful for Boxing Day so that you can stay focused on what you actually need.  Scoring a deal on Boxing Day is only a deal when you buy something you want and need.
With this list, make sure to know the price of the item before you head into the store for your purchase.  Chatelaine magazine recommends checking deal websites like Bargainmoose.ca for coupons and killer deals before heading to the stores.
Try to Avoid Boxing Day Shopping if Possible
If possible, avoiding the malls and Boxing Day shopping can be very helpful for your wallet and your psyche.  Herd mentality and crowds can cause you to think irrationally and to make decisions that you would not normally make were there not line ups, crowds, and fatigue dragging you down.
Shopping online can be helpful, but it is important that you double check the return policies of online shopping to ensure that you can return something if it doesn't fit when you try it on at home.  Also, it also helps to shop online with a targeted list.  For example, I bought a laptop on Boxing Day in 2009, and it was an easy decision because I was looking for a laptop and was planning to buy it on Boxing Day.  I did not venture into the malls that day as I did enough damage by buying a laptop.
Better yet, don't do any Boxing Day Shopping at all unless you have a big ticket item (like a television set or appliances, or other electronics) that you have been wanting. Oftentimes, the clothes that retailers set out during Boxing Day are not that great and the discounts aren't that great either.
Understand the Store's Return Policy
When you are shopping at a store, it is important to understand the store's return policy.  Many stores do not allow for any returns when their items are on sale.  However, for most bigger box stores (e.g. Future Shop, Best Buy, or department stores) this is not the case and the return policy is flexible.
Go Outdoors
I find that shopping outdoors on Boxing Day is great because I'm not a big fan of the indoor malls. Outdoor shopping areas like South Granville and Robson street in Vancouver are nice because you don't feel so stuffed up, claustrophobic, and trapped when you are lining up at the store.  I feel like I can make better decisions, and that the shopping experience is better.  However, this might not be an option across Canada depending on the weather!
Check Your Stamina
Bring lots of water and snacks.  Your endurance and stamina will be tested more than an Iron Man competition.  You will be expected to wait in line for hours for everything, from entering the store, to trying on clothes, and to purchasing the item.  Without proper hydration and energy consumption, you may make irrational decisions that you may forget, such as buying something you don't really want just because you want to avoid waiting in line.
Readers, do you shop on Boxing Day?
(banner image credit: Oran Viriyinci)